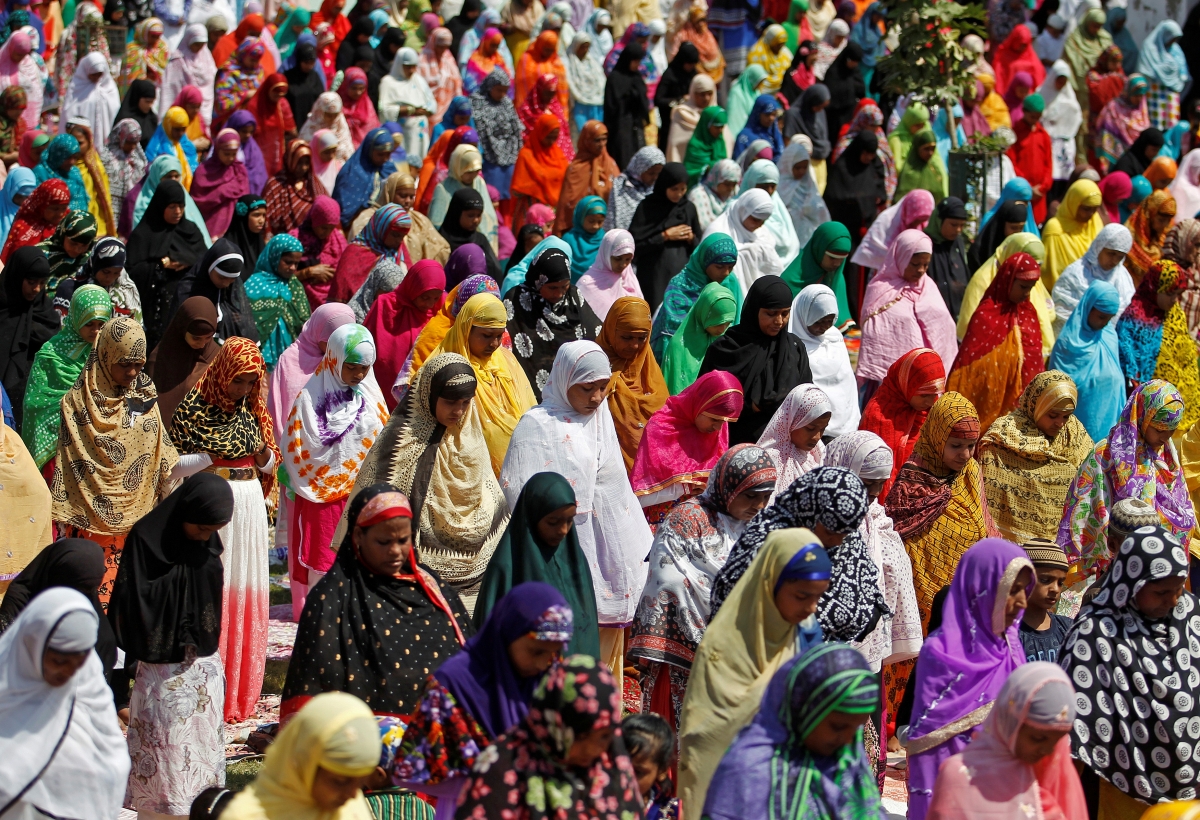 The festive mood of Eid al-Adha brought hundreds of people to mosques on Tuesday morning in India. From Kolkata to Uttar Pradesh, the mosques are full of people offering prayers on Bakrid.
Known as the festival of the sacrifice, it is the holier of the two Eids celebrated. An animal, usually a goat, is sacrificed in India.
On Eid al-Adha, two rakats are said, following which a sermon is said. The day is celebrated after pilgrims who had gone to Hajj in Mecca descend from Mount Arafat.
In Lucknow, Sunnis and Shias offered namaz together at the Imambara on Tuesday. Prayers were also offered at Jama Masjid in Delhi and Ahmedabad. In Kolkata, Bakrid prayers were offered at Red Road.
Celebrations were, however, muted in Bangalore and the Kashmir valley as curfew was imposed in certain areas of both regions. Violence erupted in Karnataka on Monday following protests over the Cauvery issue. Jammu and Kashmir has been experiencing trouble for two months since militant commander Burhan Wani was killed by security forces.
Kolkata (WB): Bakrid prayers being offered at Red Road. pic.twitter.com/HWOVln5R0d

— ANI (@ANI_news) September 13, 2016
Hyderabad: People offer their namaz at Eidgah in Madannapet on the occasion of Bakrid. pic.twitter.com/ASxn811MCU

— ANI (@ANI_news) September 13, 2016
Uttar Pradesh: Bakrid prayers being offered at Eidgah in Moradabad. pic.twitter.com/tdKGlENcqp

— ANI UP (@ANINewsUP) September 13, 2016
Bakrid prayers being offered at Jama Mosque in Ahmedabad. pic.twitter.com/IbAxgAWQKs

— ANI (@ANI_news) September 13, 2016
A joint Shia-Sunni namaz being performed at Imambara in Lucknow on the occasion of Bakra Eid. pic.twitter.com/7YMLZTpZR6

— ANI UP (@ANINewsUP) September 13, 2016
Eid-ul -Zuha prayers being offered at Kanchenjunga Stadium in Siliguri. pic.twitter.com/lTu0p28vtz

— ANI (@ANI_news) September 13, 2016
Lucknow: Joint Shia-Sunni namaz held in Imambara on the occasion of Eid-ul-Zuha. pic.twitter.com/wmDQTPrT9p

— ANI UP (@ANINewsUP) September 13, 2016
Eid-ul -Zuha prayers being offered at Eidgah in Bhopal. pic.twitter.com/PctEl7QKjp

— ANI (@ANI_news) September 13, 2016
#TopStory Eid-ul -Zuha to be celebrated all over the nation today; prayers being offered at Jama Masjid, Delhi pic.twitter.com/p7Cqpstuyp

— ANI (@ANI_news) September 13, 2016
Devotees offer namaz on the occasion of Bakrid at Jama Masjid in Nagpur. pic.twitter.com/vuvPnzkL9i

— ANI (@ANI_news) September 13, 2016
Uttarakhand: Devotees offer prayers at Badi Masjid in Nainital to mark the occasion of Bakrid. pic.twitter.com/byIODd1M7c

— ANI (@ANI_news) September 13, 2016
Related
Cauvery water row live updates Day 2: Eid al-Adha festivities on a muted note as public transport hit
Eid al-Adha 2016: Here are five dishes to make this Bakrid extra sweet and savoury
Eid al-Adha 2016: Why is Bakrid celebrated on 2 different days?
Syrian President Assad prays at Daraya mosque in former rebel stronghold on Bakrid