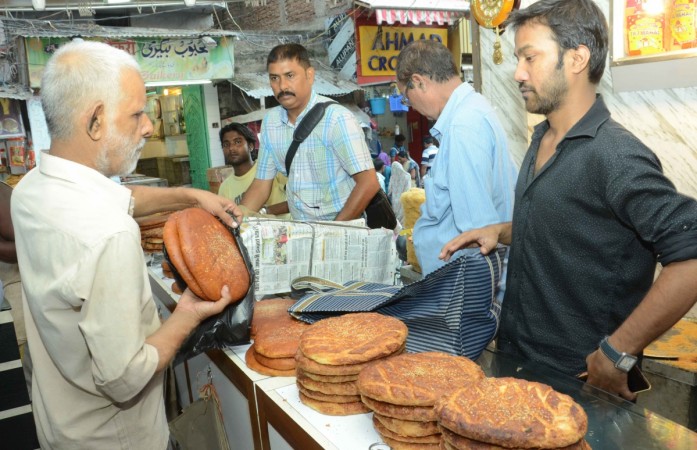 Eid al-Adha, which is also known as Bakrid or Abkara Id, is just a day away, and everyone is ready preparing for it. As the day of sacrifice approaches, here are some ideas and recipes for the dishes you can put on the spread to enrich the experience.
1. Hyderabadi Mutton Biryani: An Eid feast without a biryani is unthinkable. And when that is Eid al-Adha, it would be nothing short of miracle if mutton did not feature in that biryani.
Ingredients:
1 kg rice
1 kg mutton
10 gm cardamom
10 gm cinnamon
10 gm cumin Seeds
10 gm cloves
40 gm ginger
20 gm garlic
100 gm green chilies
50 gm fried onion
1 bunch coriander leaves
1 bunch pudina leaves
1/4 cup curd or yogurt
1/4 kg ghee
Recipe:
Wash the mutton and keep it aside.
Grind the green chillies, ginger, garlic, cinnamon, cumin seeds, cloves, fried onion, coriander leaves, and pudina leaves together into a powder. Add this to the meat.
Add yogurt to this and mix the ingredients thoroughly. Then leave it aside for 30 minutes.
Heat in a cooker the oil used to fry the onions earlier.
Add the marinated mutton and cook for till four of five whistles are sounded. Lower the flame and cook for another five minutes.
Boil two litres of water in a vessel and add rice.
Take out the semi-cooked rice from the vessel and spread it on the meat-and-spice mixture.
Mix a cup of boiled water with 250 grams of ghee, and pour it over the rice.
Put a plate on the vessel and seal its edges with kneaded dough.
Cook this for 15 minutes on medium heat.
Turn off the heat and leave the biryani for 15 minutes. It will be then ready to be served.
2. Keema: There are few other dishes that make the best use of the succulence of good mutton than Keema, also known as Kheema. This minced-meat dish can be subjected to a lot of experimentation, with each result as delectable as the other.
Ingredients:
1/2 kg minced mutton
2 tomatoes
1 finely chopped onion
3 tbsp oil
6 whole black peppers
6 cloves
1 black cardamom
1/4 tsp cumin
1tsp coriander power
Salt as per taste
1/4tsp turmeric powder
3/4tsp chilli powder
2 tbsp yogurt
1/2tsp ginger paste
1/4tsp garlic paste
Water as required
Recipe:
Take oil in a pan and sauté the chopped onions in it.
Add all the spices, including the ginger-garlic paste, and fry for a few seconds.
Now add yoghurt and finely chopped tomatoes.
Cook on medium heat till the water has almost dried.
Add the minced meat mix and let the water evaporate again.
Add two glasses of water, cover the lid and leave the dish to tenderise and the water to dry.
Garnish with fresh green coriander leaves, chopped green chillies.
3. Boti kabab: Not all kababs were created the same. This one, though not as soft as some of its brethren, like the kakori or galauti kababs, is every bit as succulent and tasty if done right.
Ingredients:
200 gms meat
1/2 cup curd
2 gingers
5 garlic flakes
1 large onion
1 tsp coriander powder
5 tsp red chilli powder
1/2 tsp turmeric powder
1/2 tsp cumin seed powder
6 cloves
Salt to taste
Recipe:
Wash the meat and cut into cubes.
Grind the garlic, ginger, onion, coriander, cumin, red chilli and turmeric powder, and then mix the curd to make a marinade.
Marinate the meat cubes in this mixture for an hour.
Stick the meat onto skewers.
Grill them for 20 minutes.
Garnish the dish with chopped onions.
4. Shufta: This is one dish to satisfy all those dessert cravings that come after a solid Eid feast. Originally from Kashmir, Shufta is one of the heartiest desserts around.
Ingredients:
125 gms paneer, diced into small cubes
250 gms sugar
25 gms almonds, blanched
25 gms raisins, slit open and seeds removed
50 gms dry apricots
50 gms dry dates
25 gms dry coconut
50 gms ghee
½ tsp black cardamom powder
½ tsp cinnamon powder
½ tsp ginger powder
½ tsp black pepper powder
Salt to taste
Recipe:
Soak the dry dates in water for an hour in a bowl.
Wash the apricots and cut them into smaller pieces.
Cut the blanched almonds in smaller pieces.
Cut the coconut into small cubes.
Soak all the dry fruits in water in a bowl for two-three hours before cooking.
Fry the diced paneer in a heavy-bottomed pan till it turns golden brown.
Add a cup of water in it and put sugar, the soaked dry fruits and mix it well.
Let it cook for around 15 minutes or till the dry fruits soften and the syrup gains a jelly-like consistency.
Add all other spices along with salt, and stir again.
Serve hot.
5. Meat pickle: Since this is Bakrid, it can easily be assumed that there will be leftover uncooked mutton at home. Meat pickle is not only a good way to make use of that mutton, but also an interesting dish when it comes to consuming meat.
Recipe:
1 kg red meat (cubed)
200 ml Vinegar
200 gms ginger (chopped)
50 gms garlic (diced)
4 green chillies
3 tbsp red chilli powder
2 tbsp ginger oil
A few curry leaves
Salt to taste
Ingredients:
Mix the meat, 2 tsp of vinegar, salt, and water in a large pot. Cook until most of the water dries up. Transfer this into a large container.
Heat the ginger oil in a pan and shallow-fry the garlic, ginger, green chillies, red chilli powder, and curry leaves until they turn light brown.
Mix the garlic mixture in the meat and mash it with a large spoon, until all the spices are mixed with the meat.
Pour in the remaining vinegar.
Cover the container with a lid and keep aside until required.
All the recipes are from Indobase.