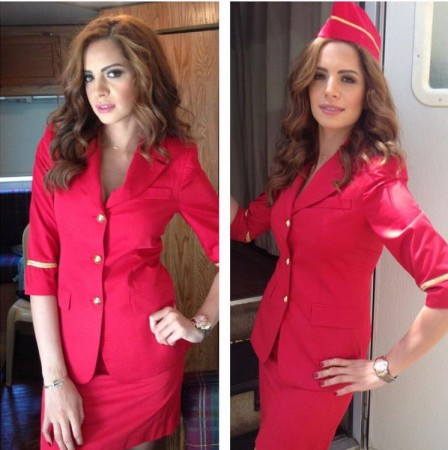 Fans began speculating if Egyptian singer Amal Maher was trying to change careers after she tweeted a picture of herself posing in an Egypt Air stewardess attire. But, it has been revealed that she was merely trying it on for entertainment purposes.
The starlet was flying to Lebanon's capital city of Beirut from Cairo with her son, when she decided to try on the air hostess' uniform. She also took a selfie in the attire with Lebanese singer Wael Jassar.
#في_الفن | بالصور- آمال ماهر "مضيفة طيران" مع وائل جسار http://t.co/IWOdO9loPc pic.twitter.com/AtbwwzePML

— Mohamed Omar (@MohamedOmar) June 21, 2015
The singers are working on a duet, titled "Live It", which they will perform on Coke Studio at the end of Ramadan, according to Albawaba.