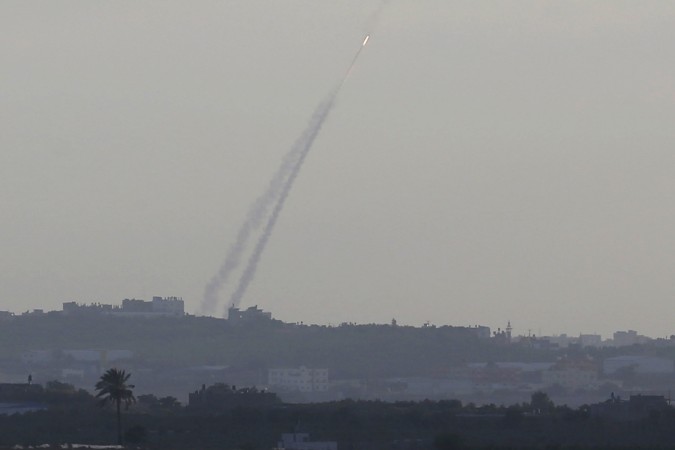 Israel has now resumed its attacks in the Gaza Strip – this time trying to target a top Hamas Leader – a day after withholding air strikes in agreement with an Egyptian-proposed truce that collapsed within hours as it failed to inspire Hamas militants to halt air strikes.
In what has been reported to be the first apparent targeting of a top Hamas political leader, an attack on early Wednesday destroyed the house of Mohamoud Zahar, although he is believed to be hiding elsewhere. The attacks also killed at least three Palestinians, Reuters reports.
Tuesday saw a new twist in the week-long violence with Hamas defying Arab and Western calls for cease-fire and Israel threatening to boost a new offensive that possibly includes invasion of a densely populated area of 1.8 million people.
A mutual "de-escalation" was to have begun at 9 am on Tuesday under a blueprint announced by Egypt – which failed to hold fire for more than 24 hours.
Hamas' armed wing, the Izz el-Deen al-Qassam Brigades, instead said its battle with Israel would "increase in ferocity and intensity" prompting a quick round of counter attacks from Israel.
The Israeli military has said Hamas fired 123 rockets at Israel – one of them killing a civilian, the first Israeli casualty in the fighting – ever since the time the cease-fire deal was to have gone into effect.
Gaza medical officials, on the other hand, were cited by Reuters as saying 191 Palestinians, including over 150 civilians (31 children among them), have been killed since.
Hamas and Islamic Jihad claimed responsibility for the attacks against Israel's commercial capital, which has been frequently targeted ever since the violence flared, including the rocket that killed the Israeli man.
Israel's Iron Dome anti-missile system was able to intercept 20 of the projectiles emanating from Hamas-controlled area, including two over the Tel Aviv area. Rest of the rockets were reported to have caused no damage or casualties.
Targeting at least 20 of Hamas' hidden rocket launchers, tunnels and weapons storage facilities, Israel resumed attacks in Gaza only six hours after the implementation of the truce was to have begun.
Prime Minister Benjamin Netanyahu said in a televised remarks late of Tuesday that Israel had no choice, but to "expand and intensify" its violence on Hamas.
US Secretary of State John Kerry supported Israel, while speaking in Vienna: "I cannot condemn strongly enough the actions of Hamas in so brazenly firing rockets, in multiple numbers, in the face of a goodwill effort (to secure) a cease-fire."