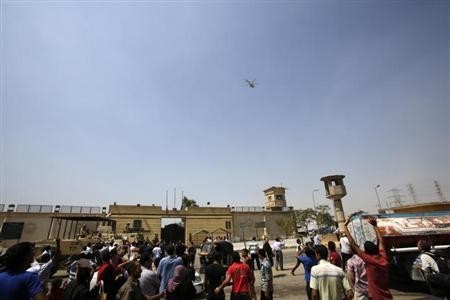 Egypt's former ruler Hosni Mubarak was immediately flown to a military hospital after being released from jail on Thursday.
The 85-year-old autocrat was taken in a blue-and-white helicopter from Tora prison in Cairo, as hundreds of supporters stood outside the jail for his house arrest. But officials told Reuters that he was first flown to an up-scale hospital in southern suburb of Maadi.
Mubarak was arrested on April 2011 after the pro-democracy uprising in January, which brought down his authoritarian rule that spanned three decades. He was sentenced to life imprisonment for his failure in preventing the killings of demonstrators. Earlier this year, however, a court accepted his appeal for a retrial in the case, for which he has served the pretrial detention.
Mubarak is not allowed to leave the country and his assets remain frozen under corruption charges against him. He will be under house arrest. The decision was taken last we ek when security forces stormed camps, maintained by supporters of Muslim Brotherhood's Mohammed Mursi, in Cairo. Mursi, Mubarak's democratically elected successor, was overthrown and imprisoned last month.
At least 900 people, including 100 soldiers, were killed in Egypt due to the internal strife in the country since Mursi's arrest on 3 July. Most of them were gunned down by soldiers.
Mubarak's release is hailed by his supporters and has dismayed some Egyptians.
"This is the end. Mubarak will never be an important political player, but symbolically, it's a victory dance by the reconstituted old state under the leadership of the Supreme Council of the Armed Forces," Egypt expert at Kent State University Joshua Stacher told Reuters.
Passion among the Brotherhood and its ally, the National Coalition to Support Legitimacy, still remains high as they promised to stage demonstrations for Mursi on Friday.