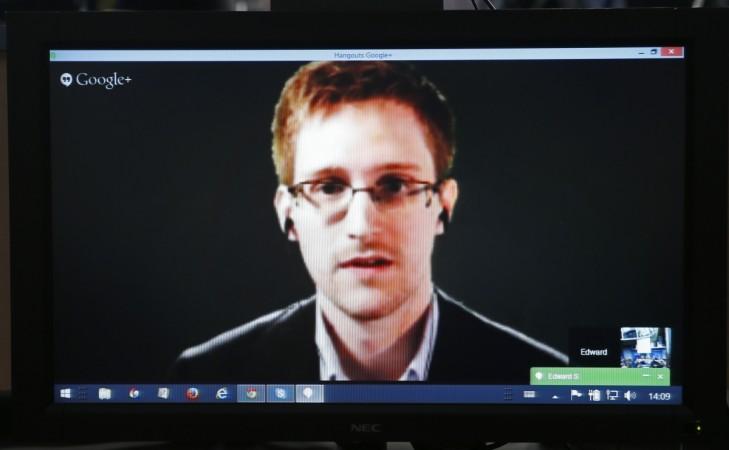 US fugitive and whistleblower Edward Snowden, who exposed US government's mass surveillance programs last year, has reunited with this long-time sweetheart, a new documentary shown on Friday revealed.
Lindsay Mills, the girlfriend of the former National Security Agency (NSA) was living with Snowden when he left Hawaii for Hong Kong in May 2013. She joined him in Moscow in July 2014, the documentary titled 'Citizenfour' disclosed in a surprise revelation, Reuters reported.
The pair can be seen cooking together in an apartment in Moscow, where he has been living since he was granted a temporary asylum. He has now been given a three-year residency permit, much to the humiliation of the United States.
Snowden's lady love had been silent ever since Snowden blew the whistle on the US government and her whereabouts were largely unknown after Snowden released tens of thousands of classified US intelligence documents in 2013.
The documentary was made by film maker Laura Poitras and was premiered at the New York Film Festival on Friday. It shows a brief account of Snowden's highly-talked-about and tense days in a Hong Kong hotel and his encounters with journalists from the Washington Post and Britain's Guardian newspaper before he chooses to divulge details of NSA programs.
Snowden shot to fame within days last year when he exposed the NSA surveillance programs that gathered data from the Internet activities and the phones of millions of ordinary Americans as well as some high-profile world leaders, including German Chancellor Angela Merkel. His revelations sparked a global debate on the limits of privacy and the need for national security, while Snowden has been either seen as a hero or a traitor.
Marketed as a "real-life thriller," the documentary is one of the several major films being made on Snowden, who is wanted by the United States on Espionage charges.
The title 'Citizenfour' was taken from the email alias that Snowden used when he first approached Poitras in early 2013 through many encrypted emails where he wanted to leak details of the top-secret programs to the media.