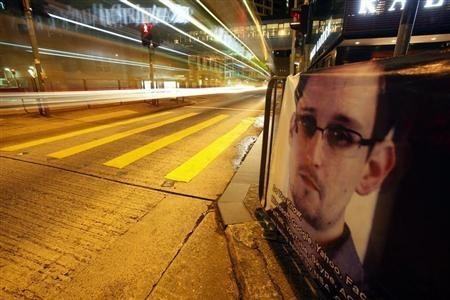 In a series of fast-moving events that caught the attention of many people across the world, whistleblower Edward Snowden, who was holed up briefly in Moscow airport after departing from Hong Kong last week, will ultimately head towards Ecuador on Monday.
The 29-year-old National Security Agency (NSA) contractor who recently admitted to leaking classified documents about controversial US surveillance programs is charged with espionage in the US. Aided by Wikileaks' founder Julia Assange, he has asked for asylum in the South American country.
The move comes only a year after the nation offered Assange safe haven at its London embassy where he is still holed up. He could be arrested and possibly extradited to Sweden in the event he leaves the embassy.
Snowden had made it clear that if he sought refuge, his choice of country would be Iceland even when he had undue faith in Hong Kong for his safety. But ever since the case has fallen onto the eyes of Assange, he has become a game-changer. No wonder, if Assange had to suggest a country for a whistleblower to seek asylum, he couldn't have suggested any other country than the one which has given him the safety.
Wikileaks said in a statement that Snowden requested Wikileaks to use its legal expertise and experience to secure his safety and he is being escorted by diplomats and legal advisors.
Former Spanish Judge Baltasar Garzon and legal director of Wikileaks said in the statement: "The Wikileaks legal team and I are interested in preserving Mr Snowden's rights and protecting him as a person. What is being done to Mr. Snowden and to Mr Julian Assange - for making or facilitating disclosures in the public interest - is an assault against the people."
While the purpose of escorting Snowdon to the small South American country is to try and provide him safety, the reason why a country like Ecuador would give him asylum is not because it believes in freedom of speech or defends disclosures of government activities that violate civil liberties. The only driving force that would give Snowdon a safe haven in Ecuador is the difference the country has with the US' foreign policies.
The country's association with Assange is only one of the clues that would explain why Snowden chose to seek asylum in Ecuador. The country's left-leaning and third-term president, Rafael Correa, has been a staunch critic of the US foreign policy and the influence of Western Economic systems in Latin America. He along with his allies of Venezuala and Cuba has sharply criticised what has always been called the US government's "imperialist approach".
"Ecuador clearly has some kind of history of sticking their finger in the eye of the United States on security issues," Fordham Law School professor Andrew Kent told NBC News.
Driven by a political motive, the Ecuador government might remain sympathetic to the whistleblower who has exposed activities of the US government - something that has long been the subject of criticism from South American socialist nations like Ecuador.
Follow the writer in Twitter: https://twitter.com/sahaja_gopi