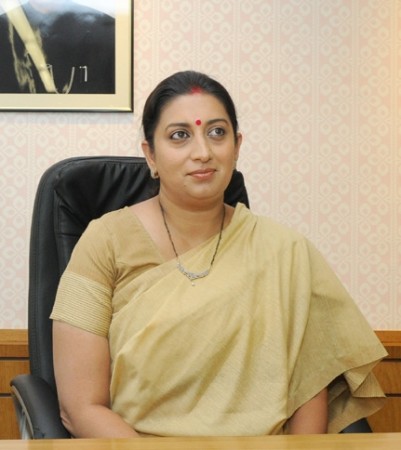 Congress leader Ajay Maken has stirred up some controversy with a series of tweets, disparaging the new Narendra Modi cabinet, pointing out the various ways in which he thought they were incompetent.
In one of the tweets, Maken questioned the educational qualifications of Irani, who has been handed the charge of Human Resource Development Ministry.
"What a Cabinet of Modi? HRD Minister (Looking after Education) Smriti Irani is not even a graduate! Look at her affidavit at ECI site pg 11 (sic)!" Maken tweeted. The tweet went viral and invited sharp reactions from the ruling party and the public alike.
"It is unfortunate if such things are said about her. Smriti Irani speaks in Hindi and English in Parliament and Mr Modi has kept her qualifications in mind," said Union Law Minister Ravi Shankar Prasad, at a briefing during Modi's first cabinet meeting.
Jammu and Kashmir Chief Minister Omar Abdullah was also quick to slam Maken's comments.
To say that someone needs to be educated to be HRD Min is like saying one needs to be a pilot for Civil Aviation or a miner for Coal Min.

— Omar Abdullah (@abdullah_omar) May 27, 2014
That's the problem with 140 letters - take "educated" in last tweet to mean "highly qualified" but I'm sure you get what I mean regardless.

— Omar Abdullah (@abdullah_omar) May 27, 2014
A swamp of tweets emerged, condemning the comment made by the Congress politician as 'sexist' and 'elitist', while there were reactions from some political commentators as well.
"Someone remind me. Did Rabindranath Tagore go to university? He certainly established one & had enlightened views on education," senior journalist Swapan Dasgupta tweeted.
Irani was always expected to hold a key position in Modi's cabinet. Modi was sworn in a grand ceremony at the forecourt of Rashtrapati Bhavan on Monday.
Over 4000 guests attended the swearing-in, from various countries across the globe, though the focus of Monday's ceremony was on the eight delegations from India's immediate neighbours - the SAARC countries.
Some leaders drew attention for all the wrong reasons on Day 1 itself of Modi's new government. While Maken stirred up a controversy with his tweet about the new HRD minister's qualifications, Jitendra Singh, Minister of State in the Prime Minister's Office, sparked another one by stating that he personally favoured doing away with Article 370, which gives special status to Jammu and Kashmir.
"The process of repealing Article 370 has started. We are speaking to the stakeholders," Singh said.