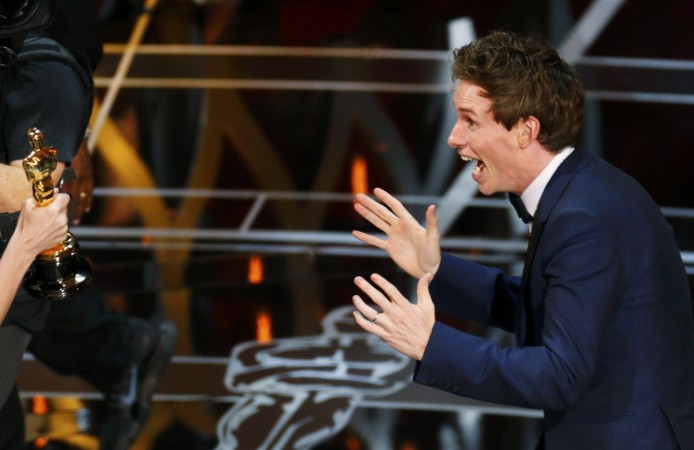 Eddie Redmayne may not be the "Boy Who Lived", but he certainly is no less important in The Wizarding World of Harry Potter. He will play Newt Scamander, a magizoologist whose job is to discover magical creatures around the world and document his adventures in his book "Fantastic Beasts and Where to Find Them".
JK Rowling, the mastermind behing the "Harry Potter" series, created the brilliant character who lives in the pre-Harry Potter era and documnents his interactions with magical creatures in 2001. Newt's diaries later becomes a Hogwarts text book that Harry and fellow students read. Rowling will write the screenplay for the movie "Fantastic Beasts and Where to Find Them", which is set for release in 2016.
Warner Bros. Pictures made the announcement of hiring Redmayne as Newt via Twitter. The company wrote, "Oscar winner #EddieRedmayne enters the Wizarding World as Newt Scamander in #FantasticBeasts and Where to Find Them: http://bit.ly/1eM3SQZ".
Its president Greg Silverman is impressed with Redmayne.
"Eddie Redmayne has emerged as one of today's most extraordinarily talented and acclaimed actors. We are thrilled to welcome him into J.K. Rowling's Wizarding World, where we know he will deliver a remarkable performance," ET quoted him as saying.
But who is Newt Scamander? Read here to find out:
Born in 1897, Newton Artemis Fido Scamander, became interested in magical creatures at an early age, thanks to his mother, who was a breeder of hippogriffs.
He was a Hufflepuff, while attending Hogwarts from 1908 to 1915, and took Care of Magical Creatures as an elective in his third year.
Before travelling to a hundred countries across five continents researching for his book "Fantastic Beasts and Where to Find Them", Newt worked at the Ministry of Magic for the Department for the Regulation and Control of Magical Creatures.
Regarding as a world authority on magical creatures, Newt was honoured with the Order of Merlin, Second Class, for services to Magizoology. There is also a Chocolate Frog Card in his name.
Newt got married to Porpentina, a union which produced a child and through it, grandson Rolf, who married Luna Lovegood, a friend of Harry Potter.
Do you think Eddie Redmayne will make a good Newt Scamander?