12:40 pm: Favorable outlook for current account deficit and its financing
12:40 pm: Controlling expenditure and switching from consumption to investment, will be important
12:40 pm: India can increaseinvestments and also meet borrowing targets, finance ministry said
12:38 pm: Foreign exchange inflows could pile upward pressure on the Indian Rupee in Fiscal 2015-16
12:38 pm: Average WPI inflation declines to 3.4% in 2014-15 (Apr-Dec) against 6% previous year
12:38 pm: India can balance the short-term requirement of boosting public investment to revitalize growth with the need to maintain fiscal discipline.
12:38 pm: IT and ITes sector continues as one of the major employers in India
12:37 pm: Economic Survey Pitches For Increasing Forex Reserves to be in the range of $750 billion to $1 trillion
12:37 pm: In the short run, economic growth will receive a boost from the cumulative impact of reforms, lower oil prices, likely monetary policy easing facilitated by lower inflation and improved inflationary expectations
12:36 pm: Structural movement in the inflationary process is underway as a result of lower oil prices, slowdown in agriculture prices and wages, and significantly improved household inflation expectations.
12:36 pm: All states will benefit from the 14th Finance Commission recommendations
12:36 pm: BringingIT torural areas will help boost 'Make in India' programme
12:36 pm: Many reforms have been undertaken and more will be introduced over time. The introduction of the GST and expanding direct benefit transfers can become game-changers.
12:35 pm: Double-digit economic growth trajectory is now a possibility
12:35 pm: Increase in foreign portfolio flow has stabilized the Rupee and has helped bring down long-term interest rates, with yields slipping on 10-year government securities, and has contributed to the surge in equity prices
12:35 pm: The current account deficit has declined from a peak of 6.7 percent of GDP (in Q3, 2012-13) to an estimated 1.0 percent in
12:34 pm: Need for revival of public investment to improve investment climate
12:31 pm: India needs to create additional fiscal space
12:31 pm: Action-oriented policies will bring rapid development to people even as it addresses climate change
12:31 pm: Economic Survey stresses on the need for dialogue and coordinated action by the Centre and the states over land reforms
12:30 pm: Food subsidy bill increases by 20% to Rs 107,823.75 crore in 2014-15
12:30 pm: Electronic visa to help tourism sector gain traction
12:30 pm: National Common Market for Commodities
12:30 pm: Trade scores signal time to undo curbs on gold
12:30 pm: Extraordinary growth in tech start-ups in India
12:28 pm: Sensex climbs back to 29000 points
12:24 pm: India must head towards fiscal deficit target of 3% over the medium term
12:24 pm: Sees Current Account Deficit (CAD) falling to 1%
12:23 pm: Cuts to subsidy, fuel is a part of reforms
12:23 pm: Revenue from coal block, spectrum sale to help
12:22 PM: Market at fresh intraday high - S&P BSE Sensex is at 29,009.18, up 262.53 points or 0.91% and the Nifty was at 8,776.75, up 92.90 points or 1.07%
12:22 pm: The worst of the slowdown period is clearly behind the economy
12:22 pm: Economy is breaking free of the shackles of inflation and high deficit
12:22 pm: Inflation risks moving up over monsoon and crude price movement
12:22 pm: Continuance of moderate oil prices a high probability
12:22 pm: Time ripe for big bang reforms
12:21 pm: WTO negotiations over Services sector hold special significance for India and will help removing many market access barriers
12:21 pm: "Make in India" investment in Railways can transform Indian manufacturing industry becoming a reality
12:21 pm: Even as increased public investment in Railways is important, it cannot become a holistic replacement for private investment
12:21 pm: Increased public investment in Railways would boost competitiveness of Indian manufacturing substantially
12:21 pm: Necessary Steps initiated for prevention and control of vector-borne diseases
12:21 pm: Fiscal, revenue and primary deficits show a declining trend
12:19 pm: Lower crude prices and policy easing would benefit in the short-term
12:18 pm: The Narendra Modi-led government has undertaken considerable reform initiatives in banking, insurance and the financial sector
12:18 pm: Calls for a balance between 'Make in India' and 'Skilling India'
12:18 pm: Create additional fiscal space for fiscal insurance
12:16pm: Increase in non-oil, non-gold imports could hurt competitiveness
12:16 pm: Subdued international demand remains a cause for concern though the worst of it has been left behind
12:15 pm: Economic growth in 2014-15 driven predominantly by local and domestic demand
12:15 pm: Subsidies do not happen to deliver the expectations on improving the living standards of the poor
12:15 pm – The 14th Finance Commission enhances fiscal federalism
12:13 pm – 2014-15 food grain production estimated at 257.07 million tonnes
12:12 pm – Spending curbs could happen if revenue falls short of expectations
12:12 pm – Sluggish export growth a major concern
12:12 pm – The Indian economy will over-perform, the clamour for monetary easing gains strength
12:11 pm – External sector is moving back into the path of strength and resilience
12:11 pm – Economic Survey pegs growth rate at over 8%
12:10 pm - The S&P BSE Sensex is near day's high, with the 30-share index at 28,971.11, up by 224.46 points or 0.81%
12:09 pm - Revenue boost expected from PSU divestment plans
12:08 pm – Inflation declines by over 6% since late 2013
12:05 pm - Growth for 2015-16 to be "in and around" 8%
12:04 pm - Sees inflation beat the RBI target by 0.5-1%
12:04 pm - Sees headroom to easy policy with inflation remaining at lower levels
12:03 pm - The fiscal deficit of 4.1% of the GDP "achievable"
12:03 pm - The CPI for FY 2015-16 range is expected in the range of 5-5.5%
12:03 pm - The Indian Government, led by Prime Minister Narendra Modi, witnesses Finance Minister Arun Jaitley table the Economic Survey on the Parliament floor.
Finance Minister Arun Jaitley will table the Economic Survey in the Parliament on Friday, a day ahead of the Union Budget presentation.
The Economic Survey describes the broader contours of the Budget and acts as the nation's report card for economic performance.
It is expected to highlight the economic recovery attempted after the Narendra Modi-led government came to power.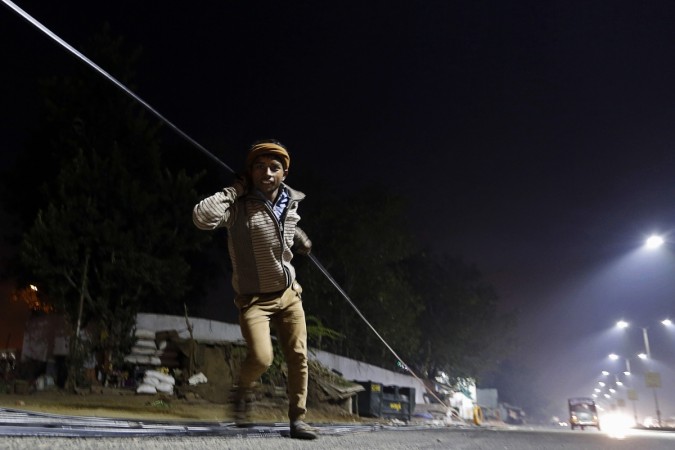 The flagship annual document is likely to point to the more favorable Balance of Payment (BoP) situation which is prevalent due to the fall in crude oil prices. Research studies say India has benefitted the most due to crude price fall as it has helped the government wipe away fuel deficits.
The annual document, authored by the Ministry of Finance, reviews the performance of the economy over the last 12 months and showcases the major achievements of development programs, highlights the policy initiatives, and explains the short-midterm prospects of the economy.
With the base-year revised, the economic growth for 2013-14 was recorded at 6.9% against the earlier lower than 5% growth recorded against a base year of 2004-05.
The computation of the GDP calculation has been revised a month ago, read ZeeNews.
The new indices are to be studied carefully as the trends relating to public sector debt, public expenditure and taxes are linked directly to the GDP and are understood as a proportion to the national GDP.