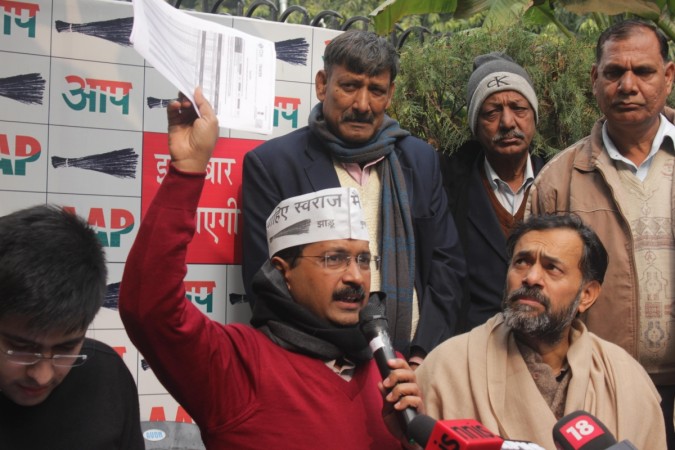 The Election Commission of India (EC) is planning action against AAP chief Arvind Kejriwal for confusing voters on the eve of Delhi assembly polls by alleging that electronic voting machines (EVMs) have been tampered to favour the BJP.
In his tweet on Tuesday, the Aam Aadmi Party (AAP) chief had tweeted: "Large scale EVM tampering? Yest, during inspection of EVMs in Del cant, in 4 machines, whatever button u pressed, light against BJP lit."
The EC refuted his allegations. "Not one EVM in Delhi Cantt had malfunctioned. There are about 190 polling booths here. All EVMs in this constituency are ones with voter verified paper trail audit or VVPAT. We have proof of a smooth mock poll," The Economic Times quoted an EC officer as saying.
Kejriwal's tweet had prompted deputy election commissioner Vinod Zutshi to seek a response from the concerned district election officer and engineers of EVM supplier Bharat Electronic Limited.
"Time and again people have alleged that EVMs have been tampered with but no one has ever been able to prove it. In 2010, when similar attempts were made, we extended an open invitation to test the EVMs for themselves. All doubts were laid to rest then. There's no reason for someone to raise doubts again," the newspaper quoted an EC officer, who did not wish to be identified, as saying.
An EC official said some EVMs procured before 2006 were vulnerable to tampering, as was detected during Lok Sabha elections last year, when some EVMs in Guwahati registered all votes in favour of the BJP, despite pressing any button. The poll panel attributed the problem that these were old machines.
He clarified that those machines are not being used for the upcoming elections. "...for Delhi elections, only post 2006 machines are being used. So no party has a reason to worry."
Despite the EC's clarification, Kejriwal persisted with his allegation and hoped to meet the the Chief Election Commissioner over the issue, besides seeking permission to educate voters.
"We urge CEC to allow us to put banners outside each booth educating voters abt EVMs," Kejriwal tweeted on Wednesday.