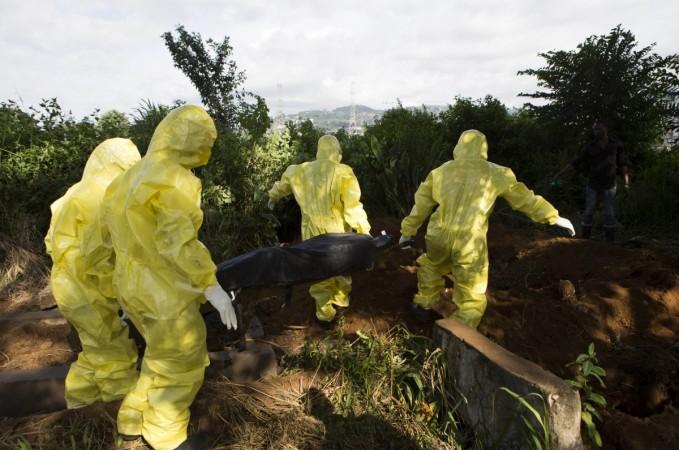 Ebola outbreak has been terrorising the world since March 2014, with the death toll soaring past 3,300, according to the World Health Organisation figures released on Wednesday. Scientists from the US Centres for Disease Control and Prevention even predicted that the total number of cases could rise to 1.4 million by 20 January 2015.
Now, a local newspaper in Liberia, The New Dawn, has added to the panic, with reports claiming that Ebola patients are rising from the dead.
"Two Ebola patients, who died of the virus in separate communities in Nimba County have reportedly resurrected in the county. The victims, both females, believed to be in their 60s and 40s respectively, died of the Ebola virus recently in Hope Village Community and the Catholic Community in Ganta, Nimba," All Africa cited the report appeared on The New Dawn.
According to reports, two women, identified as Dorris Quoi from the Hope Village Community and Ma Kebeh from the Catholic Community came back to life when they were about to be taken for burial. Ma Kebeh had reportedly remained indoors for several days without any food and medication before her alleged death.
Residents of the Hope Village Community have been left panic-stricken since the reports of the resurrection of Ebola patients surfaced and are calling Quoi a ghost. They are even adamantly refusing the women from staying in the community.
Though there have been no more news reports regarding Ebola zombies, the story of the resurrected women seems to have taken a life of its own on social media websites, with users like Bailey Davis tweeting, "This Ebola outbreak is gonna be what turns us all into zombies." and Anthony Cyrus 1 posting, "Government better get this ebola under control before it gets outta control aint nonody want zombies"
On 30 September, another article was published on a blog (which is currently down), claiming that a third person rose from the dead. However, the site from which the image and story originated is satirical in nature.
"@MakeYouLaugh_Ha: Ebola Zombies Noo ! pic.twitter.com/q8TQZPV3AP" bruh I'm bouta hit the mystery box until I get the ray gun

— ION WANT EBOLA (@ANTlGOLFBOY) October 2, 2014
Ebola is a fatal disease, which causes fever and internal bleeding through the spread of bodily fluids. The 2014 Ebola outbreak is the largest of its kind in history, and the first time the disease has affected West Africa.