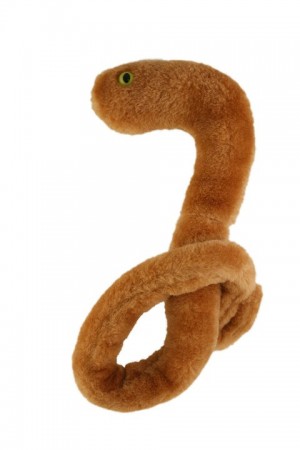 Giantmicrobes Inc is probably the only place in the world where you would want Ebola in your wishlist.Taking pride in making plush toys of microbes over 10,00,000 times bigger than their actual size, this toy store in Connecticut has sold out its entire Ebola stock.
With the latest Ebola outbreak and death toll hovering at 4,500 in West Africa alone, according to Euronews, the plush toy of the virus, which weirdly reminds of a pretzel, is getting sold like hot cake. The Ebola stock, including the small Ebola doll for $9.95, a gigantic Ebola doll for $29.95 and an Ebola Petri Dish toy for $14.95, have all been sold out, according to the company's website.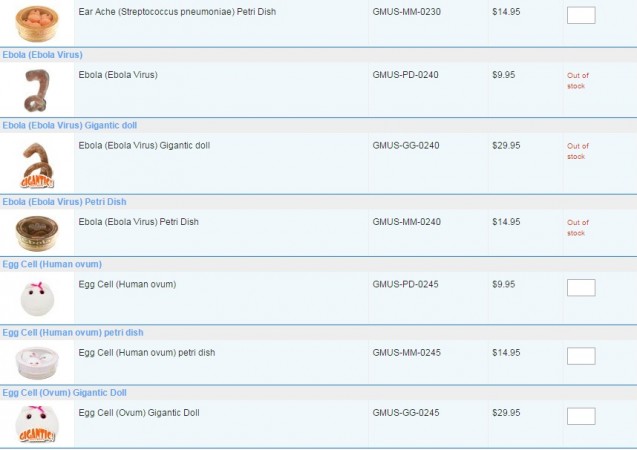 "Since its discovery in 1976, Ebola has become the T Rex of microbes. Share the love!" says the Connecticut-based maker of the "uniquely contagious toy" on its website. They have promoted the plush toys as as a great teaching tool for students to learn all about the "fearsome front-page disease".
These toys are actually used by students as part of their projects, as related by Ms OB's Classroom at Watkinson School in Hartford.
My student embellished her essay on #Ebola with an image of the out of stock virus @GIANTmicrobes #zoology pic.twitter.com/mByJil2cyd

— Ms OB's Classroom (@Solarium1101) September 16, 2014
Giantmicrobes, which lists the World Health Organisation as one of its largest customers, along with pharmaceutical companies and the American Red Cross, however warns, "You do not want to get Ebola."
And goes on to add, "A short incubation period of 2 to 21 days presages symptoms which include fever, aches, sore throat and weakness, followed by diarrhoea, stomach pain, vomiting, and both internal and external bleeding. And then, for between 50-90 percent of victims, death."
Anyone, who would like to get a hold of the Ebola virus plush toys can click on "add to wishlist" so as to avail it when new stock arrives. Meanwhile, check out the Giantmicrobes' huge collection of plush toys including chicken pox, flu, herpes, kissing disease, book worm, pimple and so on.