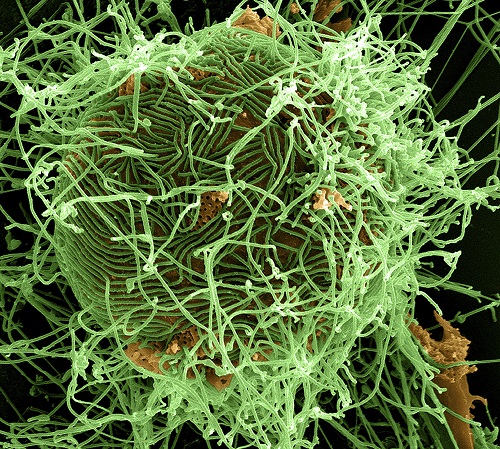 In what is considered to be another possible case of Ebola in US, health authorities in Maryland have isolated a person who exhibited some symptoms of the disease on Monday.
The University of Maryland Medical Centre in Baltimore has confirmed the news on Twitter.
"UMMC has accepted a transfer at the direction of DHMH (Public Health) of a potential Ebola patient for further assessment," the UMMC tweet read.
"They are appropriately isolated and receiving further assessment and care," read another tweet.
Name and details of the new patient suspected of Ebola infection are yet to be released.
Though an initial examination has dimmed the possibilities of an Ebola infection, the patient has been quarantined in the medical centre to ensure safety. The person has already undergone an Ebola test. Health authorities will receive test results on Tuesday.
While the Ebola scare continues to grip the US, the latest developments in treating the disease bring some hopes. The two Texas Health Presbyterian hospital nurses, Nina Pham (26) and Amber Vinson (29), who contracted Ebola while taking care of Thomas Eric Duncan, the first Ebola victim in the country, have already overcome the disease and returned home.
Nina and Amber, who were shifted to National Institutes of Health Clinical Centre in Bethesda and Emory University Hospital in Atlanta respectively for specialised treatment, recovered after they received blood transfusion from Ebola survivors, a Daily Mail report shows.
Meanwhile, the fourth Ebola victim in US, Dr Craig Spencer, who is being treated at the Bellevue Hospital in Ohio, on Saturday, received a blood transfusion from Nancy Writebol, a missionary and one of the few survivors of the disease, New York Daily News reported. He is also given an antiviral medication and plasma.
The 33-year-old contracted the deadly virus while treating Ebola patients in Guinea. He was part of the Doctors Without Borders clinic, who initiated providing health care to Ebola patients in the West African country. He started exhibiting the symptoms only one week after reaching New York.
Latest report emerged on Tuesday shows that Spencer caught the disease irrespective of all the safety measures he had taken while handling Ebola patients.
Though he used to come in direct contact with Ebola patients and record their temperature, Spencer always took extra care and strictly followed all safety measures during the work, one of his colleagues, told Associated Press.
"I'm asking myself how he got the virus because he was a rigorous man," an hygienist, at the clinic told Associated Press. "Since we learned that he was infected, we've had low morale. And we understand that we are also at risk despite the measures."
Spencer's condition continued to remain serious, but stable on Sunday.