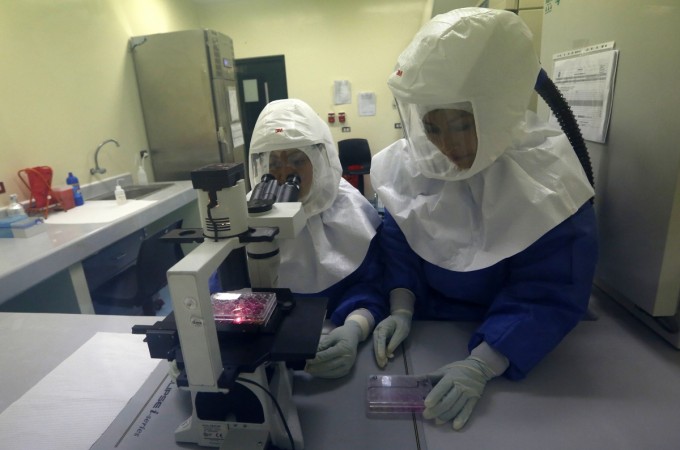 The Ebola scare seems to be growing bigger in India, as six people who returned from West Africa have been deemed 'high risk' suspects of carrying the virus from the epidemic-torn region.
About 180 passengers have arrived in India from Ebola-hit West African nations in the last 24 hours, with about 70 arriving in Mumbai and 44 in Delhi, while the rest landed in Bangalore, Chennai, Hyderabad, Kochi and Kolkata. The six passengers are believed to be at 'high risk' of carrying the virus and were admitted to a quarantine facility at Delhi airport on Monday,The Press Trust of India reported.
Indian health officials have been tracking about 821 passengers who travelled to India from the West African region over the past weeks under the Integrated Disease Surveillance PRogramme (IDSP). The incubation period of the virus is between two and 21 days, and the programme is designed to keep a health check on individuals for at least a month.
Passengers who have returned from West African nations are at certain risk because of suspicion that they might have come in touch with Ebola victims and are being monitored to ensure that they are attended to in case they develop symptoms of the disease.
The initial symptoms of the virus include fever, intense weakness, muscle pain, headache and sore throat. However, if left unchecked, the disease can then lead to vomiting, diarrhoea, rash, impaired kidney and liver function, and in some cases, both internal and external bleeding.
Last week, more than 112 Indians had returned from Ebola-hit Liberia and while most of them were allowed to leave after a check-up at the airports, six people were quarantined in Delhi and one was isolated for further examination.
While there has been no case of the Ebola Virus Disease reported in India so far, airports are on high alert to ensure all passengers travelling from high-risk countries are thoroughly screened and tracked.
The virus has so far killed more than 1,500 people in the four most-affected nations of Liberia, Guinea, Sierra Leone and Nigeria.