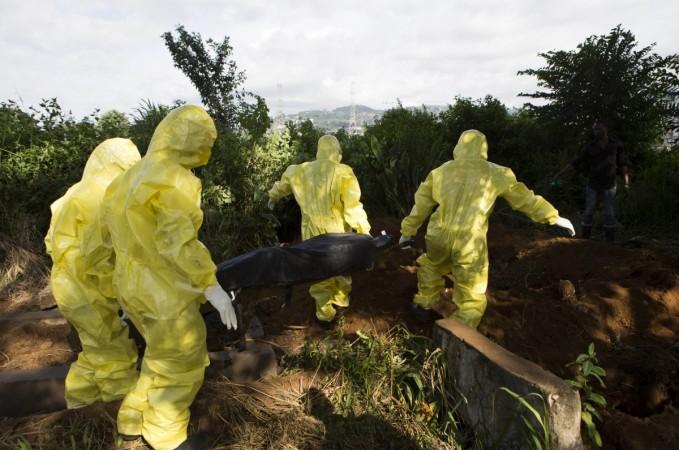 The mysterious death of a woman due to massive bleeding, right after alighting from a flight from Sudan, triggered an Ebola scare at the Nairobi airport on Saturday.
Reports indicate that the 33-year-old had arrived at the Jomo Kenyatta International Airport at 6.45 pm local time from Sudan on Saturday and died at 8 pm.
The airport medical team did quarantine her at a secluded area, where doctors - in protective gear - tried to revive her. However, it was it too late by then.
Meanwhile, the relatives of the deceased have alleged that there was a big delay in help reaching the woman, due to the Ebola scare. According to the relatives, the woman was left bleeding on the floor at the terminal for almost an hour, before any help arrived.
"They left her to die as no one wanted to be close to her. Even health officials were not available to help her," a relative of the woman told The Star.
However, the blood test reports of the deceased, conducted at the Kenya Medical Research Institute and the Centres for Disease Control and Prevention laboratories, found there were no signs of an Ebola infection. The woman reportedly died of a massive vaginal bleeding, a medical condition for which she was undergoing treatment.
The name of the deceased has been withheld. Reports state that the woman hailed from Gatundu, and was aboard a Fly540 flight, which arrived at the airport at 6:45 pm.
The aircraft and the entire airport were disinfected as a security measure, following the death.
The death at the airport also spread panic among passengers and airline staff. Local reports claim that several passengers fled the airport in fear, after the airline staff tried to quarantine any person, who might have come in contact with the woman.
According to the latest WHO and CDC reports, Ebola has killed over 4,000 people till now. Kenya, like other African countries, has been on high alert. Kenya Airways, the country's national carrier, has suspended flights to parts of West Africa for the fear of Ebola.