The Liberian government announced on the state radio on Tuesday, that they would impose a night-time curfew in the country, in order to curb the spread of the deadly Ebola virus.
As the total Ebola death toll rose beyond 1,200, curfew would last from 9 pm to 6 am local time (or 2100 to 0600 GMT), said Ellen Johnson Sirleaf, President of Liberia, according to a report by Reuters.
This move by the government comes after it had decided to suspend all civil rights of the civilians, and impose a state of emergency in the country.
The number of deaths due to Ebola has escalated exponentially since its inception, at Gueckedou in Guinea in February. Sirleaf further went on to blame her government, in the radio broadcast. She criticided the government for failing to bring the deadly outbreak under control.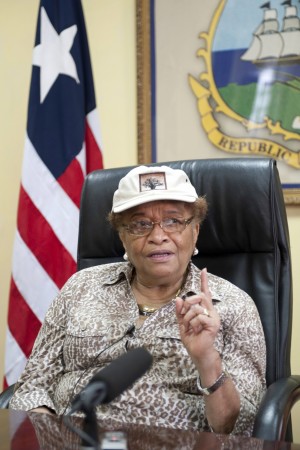 She also went on to criticise the public, who were suspicious of the government misconduct in the name of the Ebola virus and that the people should pay more heed to the advice given to them by the doctors and other health workers.
The government's failure to curb the outbreak after imposing the curfew, earlier this month seems to be the main reason that prompted this move.
A mob of angry protesters attacked a health centre at West Point in Monrovia, on Saturday. Seventeen people who were suspected to have been carrying the virus have gone missing since the incident.
More than 1,200 people have been killed by the deadly virus while another 2,240 are reported to have contracted it, according to the US Centres for Disease Control and Prevention, in the four West African countries of Guinea, Liberia, Sierra Leone, and Nigeria.
In Liberia alone, 466 people have been killed by the virus and 834 others have contracted the disease. In Guinea, where the outbreak of this virus had originated, 394 people have died and 543 people have contracted it.
Meanwhile, Sierra Leone, which has recently been hit by floods, to compound its Ebola problems, has had 365 deaths and 848 cases. And Nigeria, which was the last of these countries to confirm an Ebola death has reported four casualties and 15 cases.