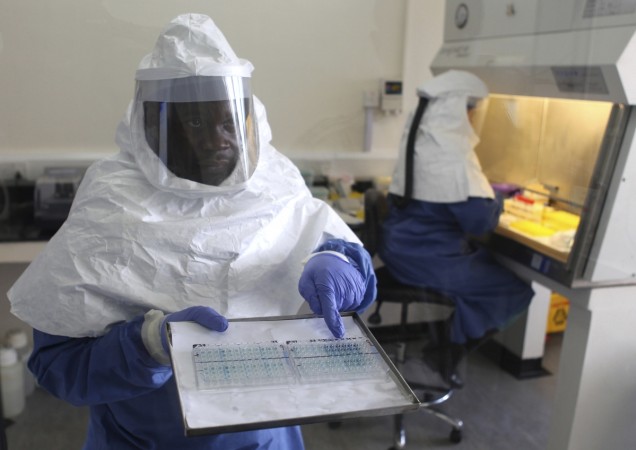 Union Minister of Health Harsh Vardhan announced in the Parliament on Wednesday that Indians must defer non-essential travel to Ebola virus-affected West African nations.
Ebola has killed 887 people in four West African countries - Guinea, Liberia, Sierra Leone and Nigeria. However, there seems to be no vaccine to cure the epidemic.
He also stated that precautionary measures are in place in the country to deal with any case of the virus imported to India from the countries hit by the epidemic. Harsh Vardhan said earlier that he reviewed the situation with World Health Organisation (WHO) officials with regard to Ebola.
As of now, the risk of transmission to countries outside of African region is low, he added. The Minister also explained about other precautions taken to contain the spread of Ebola virus from travellers form West African region to India.
The WHO on Monday pledged $200 million to contain the deadly Ebola virus. It has reported 1,603 cases of the virus in the four West African counties, said Vardhan.
Even the British Airways has suspended its flights to and from Liberia and Sierra Leone in the wake of the epidemic outbreak.
According to the Minister, Ebola virus is a Filovirus with five distinct species. The specific virus isolated in the current outbreak is Zaire Ebola Virus. Ebola is a severe, often fatal illness with Case Fatality Rate of upto 90 percent, the minister said.
In Africa, fruit bats are known to carry Ebola Virus from whom the animals (chimpanzees, gorillas, monkeys, forest antelopes) get infected. Humans get the infection either from the infected animals or from infected humans when they come in close contact with infected body fluids or body secretions.
To diagnose Ebola viral disease, laboratory capacity has been strengthened at National Institute of Virology in Pune and National Centre for Disease Control in New Delhi, he stated.
There are about 4,700 Indians, including personnel from Indian Central Reserve Police Force, in Republic of Guinea, Liberia and Sierra Leone from where maximum cases are reported.
Nigeria has a much larger presence of nearly 40,000 Indian citizens and about 7,000 Indian troops deployed in the African continent, but not in the affected countries, stated the minister.