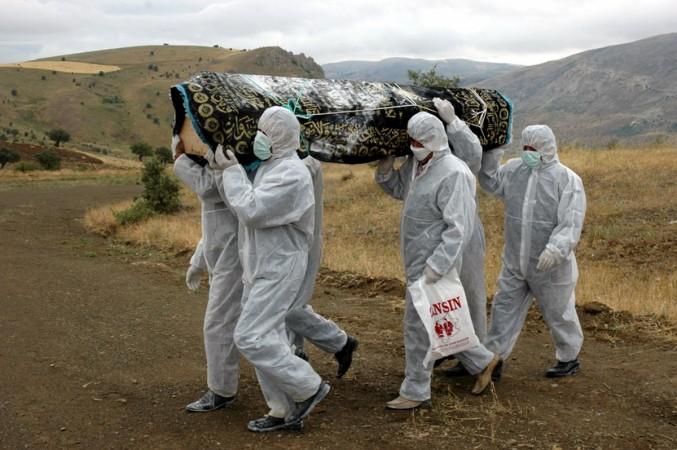 The deadly Ebola virus seems to have spread from West Africa to Central Africa, with the Democratic Republic of Congo confirming that it has become the fifth nation in the continent to have confirmed cases of the virus.
Dr Felix Kanamge Numbi, Health Minister of the Democratic Republic of Congo told Reuters that there has been an outbreak of the virus in the Equateur province, a remote area, which is around 1,200 kilometres away from Kinshasa, the capital of the country. However, he also said that the strain for virus found in the Ebola case in Congo is different from the West Africa Ebola strain. Numbi also said that around 13 people have been killed by the deadly virus.
"After having consulted different papers, after speaking with the community, after following up with a certain number of things and a certain number of people, we have audited and monitored 13 deaths," Numbi told Mpelembe.
However, the exact strain of the virus has not yet been determined. The different strains of the Ebola virus have different effect on the humans. Certain species of the virus are known to cause a mortality rate of 90 per cent, while others could turn out to be less harmful. The West African strain of the Ebola virus has a mortality rate of 60 per cent.
"We can say here that there is a suspicion of cases of hemorrhagic fever but the origin is undetermined," said Numbi. "We have taken samples, eight samples. We just brought samples in the plane that brought me here to Kinshasa. We just dropped off these eight samples at the INRB, the National Institute of Biological Research, and those samples will be sent to Franceville in Gabon for quality control. We hope that in the following seven to eight days we will have a diagnosis."
The Ebola outbreak in the four West African countries of Guinea, Liberia, Sierra Leone and Nigeria has killed 1,427 people, according to the latest reports. Nigeria was the least affected country in the region.
The Ebola virus was first discovered in Congo (then Zaire), in 1976. Since then DR Congo has recorded a total of six outbreaks of the virus. More than 760 people have been killed by the virus, in the country.