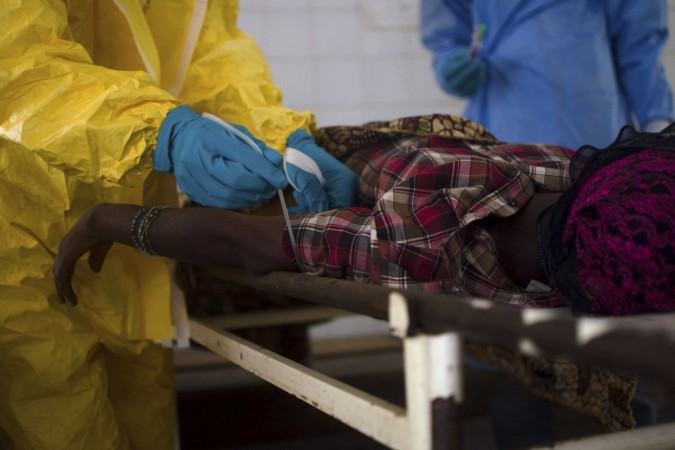 Three Nigerians were admitted to the Ram Manohar Lohia (RML) Hospital, in New Delhi, and are being suspected to be carrying the Ebola virus, after they were found to have had fever at the Indira Gandhi International Airport (IGIA).
The three Nigerians, who are aged 4, 37 and 79, were kept in isolation at the Delhi hospital and were screened for the virus. The blood samples of the three patients had been sent to the National Centre for Disease Control (NCDC), Delhi, for testing. The results that came back from the NCDC are said to be inconclusive. However, the 4-year-old and the 37-year-old have been released from the hospital as the doctors do not believe that they are carrying the deadly virus.
The 79-year-old Nigerian's condition is believed to be the worst of the lot, and his blood samples have been sent to the National Institute of Virology (NIV), Pune, for further testing.
"His blood samples have been sent to NIV for RT-PCR (real-time polymerase chain reaction)," said Dr HK Kar, the Medical Superintendent of the RML Hospital, to NDTV. "He was admitted to the hospital from the airport yesterday along with two other Nigerian nationals, who were discharged today after they tested negative (for the virus)."
Meanwhile, a 32-year-old Nigeria-return, who hails from Durg, Chhattisgarh, was admitted to a hospital in Bhilai, on suspicion of carrying the virus. His results however, came back negative, and the man has been released since then.
Five other Indians, who were suspected to be carrying the Ebola virus, were admitted in the hospitals. However, their tests came back negative, and all of them have been released. The Health Ministry says that all of these people are currently being tracked by the Integrated Disease Surveillance Programme (IDSP). The details of these passengers have been provided to the IDSP by the Airport Health Organisation.
The ministry also revealed that a total of 267 out of 9,207 passengers are currently being tracked by the IDSP. Out of these, 90 passengers have enrolled themselves in the programme. According to the ministry, the majority of these 267 passengers are from Tamil Nadu, Kerala or Maharashtra.
According to a report by the US Centres for Disease control and Prevention, 1,145 people have been killed by the Ebola virus, while more 2,127 are known to have contracted the disease, in the four West African countries of Guinea, Liberia, Sierra Leone and Nigeria.