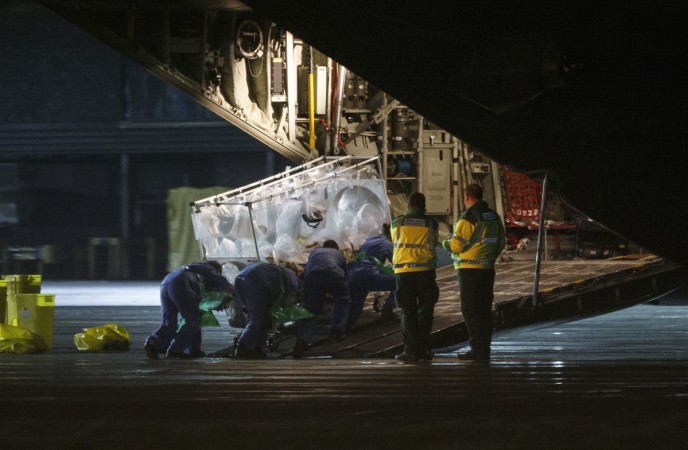 The Ebola-hit British nurse, who had contracted the deadly virus while volunteering in Sierra Leone and was hospitalised in London since 30 December, is now in critical condition.
The Royal Free Hospital in London, which has been regularly updating the condition of Pauline Cafferkey on their website, had been under the impression until recently, that the experimental drugs tried on her were working and that her condition was improving.
The 39-year-old working with the state-run National Health Service (NHS) in Scotland had been flown in from Glasgow to London's Royal Free Hospital, which is the only hospital in Britain with an isolation ward equipped for Ebola patients, after it was confirmed that she had contracted the fatal virus. She had returned to the UK after volunteering for Save the Children in Sierra Leone on 28 December.
Cafferkey, who had agreed to be treated with experimental anti-viral drugs and blood from the survivors of the deadly disease, was sitting up in bed, talking and reading by 31 December.
Dr Michael Jacobs, who is the consultant for Ebola in the Royal Free Hospital had however, warned in a statement from the hospital that even though they are giving Cafferkey, the best treatment possible, next few days will be crucial. "The disease has a variable course and we will know much more in a week's time," Jacobs had said.
Around 2pm on 3 January 2015 (GMT), the hospital said in a statement that the "condition of Pauline Cafferkey has gradually deteriorated over the past two days and is now critical."
On Saturday, British Prime Minister David Cameron took his payers to Twitter: "My thoughts and prayers are with nurse Pauline Cafferkey who is in a critical condition with Ebola."
Scotland's First Minister Nicola Sturgeon also tweeted: "My thoughts are with Pauline & her family at this extremely difficult time. Thanks to all who are caring for her."
The disease spreads through direct contact with the bodily fluids of those already infected with the virus. Out of the 20,171 reported cases of Ebola, 7,890 people were killed last year, almost all of which have been recorded in the West African countries Sierra Leone, Liberia and Guinea, according to the latest tally by the World Health Organisation.