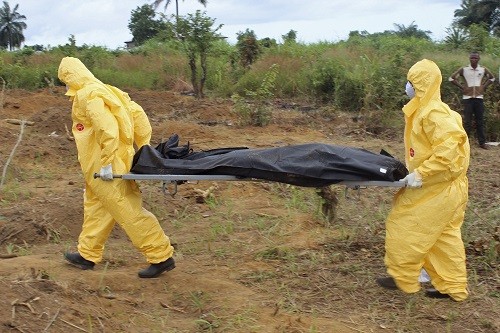 As many as 8,795 people have died from Ebola until now, according to the latest figures released by the World Health Organisation (WHO).
The deadly virus, so far, has infected 22,057 people across the whole world, mainly in three West African countries Liberia, Sierra Leone and Guinea, IANS reported.
Liberia topped the list with 3,686 deaths, while Sierra Leone and Guinea closely followed it with 3,199 and 1,910 deaths.
Sierra Leone has recorded a total of 10,518 cases, compared to 8,622 and 2,917 cases in Liberia and Guinea respectively.
Mali, Nigeria, Senegal, Spain, the UK and the Unites States are the other six countries affected by the current Ebola outbreak. Mali, Nigeria and Senegal were declared Ebola-free after they succeeded in bringing down the cases to zero earlier.
Nigeria had 20 cases and eight deaths, compared to eight cases and six deaths in Mali. The US had four cases and one death. Senegal, Spain and the UK had one infection each.
Latest data shows that Ebola has loosened its grip on West Africa.
"Case incidence continues to fall in Guinea, Liberia, and Sierra Leone, with a halving time of 1.4 weeks in Guinea, 2.0 weeks Liberia, and 2.7 weeks in Sierra Leone," according to a situation report released by WHO on 21 January.
Tolbert Nyenswah, Liberia's Sssistant Minister of Health, confirmed on Monday that the country has only five Ebola patients now. The news is really promising as the country used to receive more than 300 new cases every week in August and September last year, Associated Press reported.
Ebola Virus Disease (EVD) has been named after the Ebola River in Yambuku, a small village in Mongala District in Democratic Republic of Congo (DR Congo) in Central Africa, where the deadly virus first appeared in 1976.