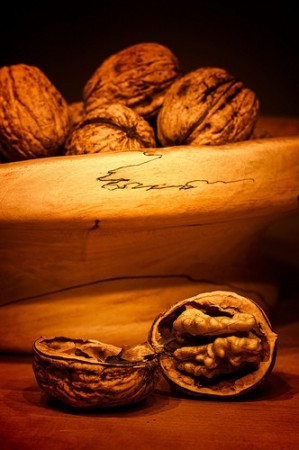 Daily consumption of walnuts can help prevent development of diabetes and heart disease, a new study says. Intake of walnuts particularly benefitted people who are at a higher risk of these diseases.
The study included 46 adults, both men and women, aged between 30 and 75. Body mass index (BMI above 25) and waist circumference (more than 40 inches -men, 35 inches-women) of the participants were noted down. BMI is a number calculated from a person's weight and height, to measure body fat.
All the participants were non-smokers and had one or more than one additional risk factors for metabolic syndrome. Metabolic syndrome is a combination of medical disorders like obesity, high blood pressure that occur together and increase the risk for coronary artery disease, diabetes and stroke.
The participants were divided to two groups - one received walnuts along with ad libitum diet (a diet that allows food intake as much one desires), while the second group received only the ad libitum diet without walnut. The walnut group took 56 grams of unroasted, shelled walnuts daily. Both groups were assigned to two eight-week sequences of each type of diet.
Lead author Dr David Katz and his research team from the Yale-Griffin Prevention Research Center in the US found that walnut intake helped improve endothelial function, particularly in participants who were overweight and had abdominal fat. Interestingly, eating walnuts daily didn't lead to weight gain.
"We know that improving diets tends to be hard, but adding a single food is easy," Dr David Katz, Director of the Yale-Griffin Prevention Research Center, said in a news release. "Our theory is that if a highly nutritious, satiating food like walnuts is added to the diet, there are dual benefits: the benefits of that nutrient rich addition and removal of the less nutritious foods."
The study has been published in the Journal of the American College of Nutrition.
Earlier in July, researchers reported in BioMed Central's open access journal BMC Medicine that eating nuts, particularly walnuts, regularly helps cut the risk of cancer and cardiovascular diseases.
According to health experts, walnuts contain some vital nutrients, and minerals (iron, calcium, zinc, magnesium) for keeping the body healthy. It is also rich in antioxidants, omega-3 fatty acids and vitamins (vitamin E, vitamin-6, folate).