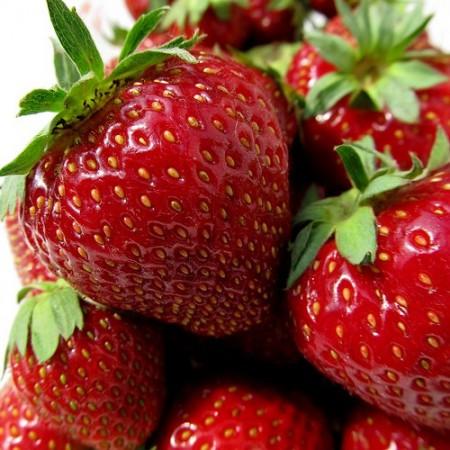 Adding strawberries to the daily diet can help lower bad cholesterol (low-density lipoproteins or LDL), a new study says.
A team of researchers from Italy and Spain found that regular consumption of strawberries helped to achieve a decline in the total amount of cholesterol (8.78 percent), bad cholesterol (13.72 percent) and triglycerides - a kind of fat found in blood (20.8 percent) - without affecting the level of good cholesterol (high-density lipoprotein or HDL).
For the study, researchers from the Università Politecnica delle Marche in Italy and three Universities in Spain - Universities of Salamanca, Granada and Seville - asked 23 healthy people to eat 500g of strawberries daily for one month.
Apart from lowering cholesterol, the strawberry diet helped to improve general plasma lipid profile, antioxidants and antihemolytic activities and platelet function, according to a statement from the researchers.
However, researchers could not find out the exact compound in the strawberries that helped this occurrence. Based on previous evidence, they said that anthocyanin, the flavonoid pigments which provide color to strawberry may be playing a major role.
The study has been published in the Journal of Nutritional Biochemistry.
Health benefit of strawberries is a topic well explored. Following are some research-proven benefits of strawberries:
Prevents Heart Attack
A study published in the American Heart Association's Journal Circulation, reported that high consumption of anthocyanin rich foods like strawberry and blueberry can reduce risk of myocardial infarction (MI) in young women.
Protects Against Obesity - Related Diseases
A 2012 study found that dietary strawberry powder was highly useful in lowering risk of cardiovascular diseases, strokes and diabetes.
Improves Brain function
Research published in the Journal of Agricultural and Food Chemistry shows that berry fruits help to sharpen memory, and ward off brain disorders, including Alzheimer's and dementia.
Boosts Antioxidant Levels in Blood
The 2011 study, reported in Food Chemistry, found that daily consumption of strawberries will improve antioxidant levels in the body and can protect against deadly diseases, including heart disease and cancer.
Apart from these, studies in the past have shown countless health benefits associated with strawberry intake, particularly in people affected with metabolic syndrome.