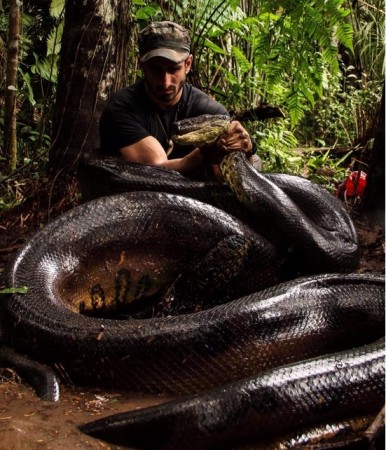 Paul Rosolie, the man who was eaten alive by an Anaconda in a controversial Discovery Channel show, has described the moment when the monstrous snake swallowed him.
The stunt, which has led to Rosolie being called 'animals' Hitler', will be aired on Sunday on Discovery Channel in a show called 'Eaten Alive'.
Rosoliem who says he survived by wearing a carbon-fibre snake-proof suit, has shrugged off criticisms from people saying they haven't seen the footage yet.
And, to make people more curious about how he could survive and get out of the belly of the beast, he has colourfully described the moment when the snake devoured him.
In an interview with Entertainment Weekly last week, he said that the moment he went inside the mouth of the animal was the most terrifying moment in his life.
"The snake did not want to eat me, at first. She wasn't interested. But once I showed myself as a predator and she got spooked, then she defended herself," he told the publication.
"She nailed me right in the face and the last thing I saw was her mouth wide open before everything went black. And then she wrapped me and I felt the suit cracking and my arms ripping out of the sockets. It was absolutely terrifying."
Saying that the snake swallowed his head first, he revealed that he stayed inside the snake's stomach for over an hour. "Once they have you, they do not let go," he said. He however, insisted that he wasn't allowed to reveal how he got out of the snake.
"I am actually not allowed to say anything. I can tell you that the thing beat the shit out of me and constricted me. As for as actual consumption went, I'm not allowed to say."