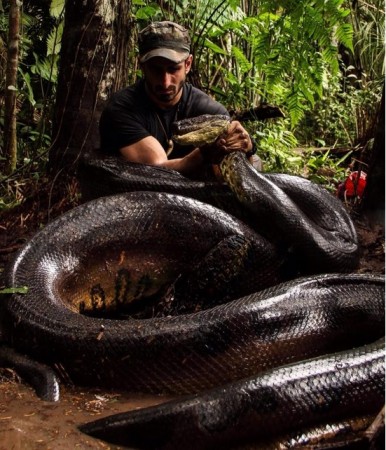 Discovery Channel's "Eaten Alive", where a man was supposedly going to be devoured by an Anaconda, raked in good television rating point with over 4.1 million people watching it on Sunday evening, AP reports.
However, as soon as the two-hour show ended, disappointed viewers took to twitter to complain that although the title and a promotional video indicated that naturalist Paul Rosolie would be swallowed by the giant snake, the show didn't go that far.
Rosolie, who is described by Discovery as a conservationist, ended his Amazon jungle adventure and the pre-taped special show merely had the beast encircling Rosolie and sqeezing him. The presenter – who had presented himself as a prey to the snake after wearing a carbon fibre protective gear – escaped with a sore arm but uneaten.
Viewers were seen jeering at discovery and Rosolie for falling short of its promise. The animal rights group PETA, which has been seeking a ban on the show, also criticised the stunt saying it included "the inexcusable torment" of a wild anaconda. Many others bashed the show for appearing to be a stunt just to increase the TRP ratings.
"Apparently #EatenAlive is short for '2 Hours of Your Life Eaten Alive.' Interesting but totally #OverHyped," tweeted an individual named Paul Steinbrueck.
"The World is a cruel place #EatenAlive is actually a man rolling around for 5 mins and giving up right when the snake was about to do work," said Dan Sullivan.
Both Rosolie and Discovery channel had refused to say how much Rosolie would be eaten by the beast, but they had insisted that it was not a hoax.
"She nailed me right in the face and the last thing I saw was her mouth wide open before everything went black. And then she wrapped me and I felt the suit cracking and my arms ripping out of the sockets. It was absolutely terrifying," he told the Entertainment Weekly last week.