If you thought the shows in Discovery Channel are cringe-worthy now, you haven't heard of "Eaten Alive" yet. A reality show that promises to show a man getting swallowed by a live anaconda is said to premiere on 7 December.
You've never seen anything like this before. #EatenAlive @PaulRosolie https://t.co/8QRwqwXzXA

— Discovery (@Discovery) November 5, 2014
The show features naturalist and wildlife filmmaker Paul Rosolie, dressed in a "snake-proof" suit coated with pig's blood, who will crawl inside the belly of an Amazonian anaconda. The author of "Mother of God: An Extraordinary Journey into the Uncharted Tributaries of the Western Amazon," has already earned ire from many animal rights activists concerned about the over hundred feet snake that will swallow him.
There is a Change.org petition 'STOP THE AIRING OF "EATEN ALIVE" - BOYCOTT DISCOVERY CHANNEL," which has already been signed by over 8,960 supporters.
The petition reads: "This is animal abuse to the highest degree and absolutely disgusting, and could kill the snake - an adult green anaconda cannot fit the width of an adult man's shoulders into its body."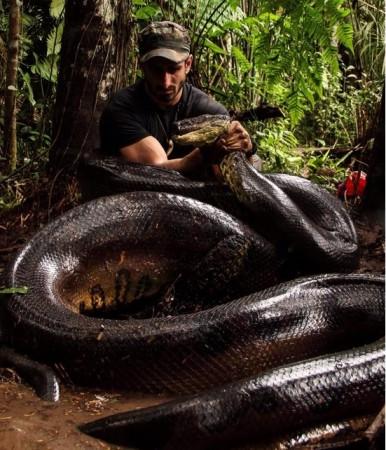 While most people are just shocked at the bizarre reality show, a large number of Twitterati stand strongly against "Eaten Alive" from being aired.
"Wtf there's a show about a guy getting eaten by a snake #EatenAlive ?????" asks Madison Keys.
A disheartened Fly Like Law relates, "It's really sad how much love and respect for @Discovery I had growing up to see them push this #eatenalive and bad mockumentaries."
Windahl appeals, "Hello @discovery torturing and killing animals as entertainment is unacceptable. #eatenalive is the worst idea yet. Poor snake. #boycotting"
An agitated Thierry S Huguenin says, "Discovery channel should b ashamed ~ Man in 'snake-proof suit' #eatenalive by anaconda", while Mrs Hugnkiss expressed her anger in the tweet: "No @Discovery just no! #EatenAlive? That's cruel not to mention stupid. I'm so pissed right now I could spit nails. "
Many users also threatened to boycott the show, like Karin Femi A, who said, "This Eaten Alive show concept is so stupid! We gotta tell Discovery Channel we are not interested in watching animal abuse for entertainment" and Alana Evans who said, "Hey @Discovery I think your #EatenAlive is horribly cruel to the animal. Not sure why you guys think this is ok. Won't be watching"
In response, Rosolie assured via a tweet that the snake has or will not face any harm. "If u know me - I would never hurt a living thing. But you'll have to watch #EatenAlive to find out how it goes down!" he tweeted.
Further, on his website he requests everyone who is worried about animal cruelty to read his book before asking themselves, "would this person ever hurt an animal?"
Watch the Promo for Eaten Alive: