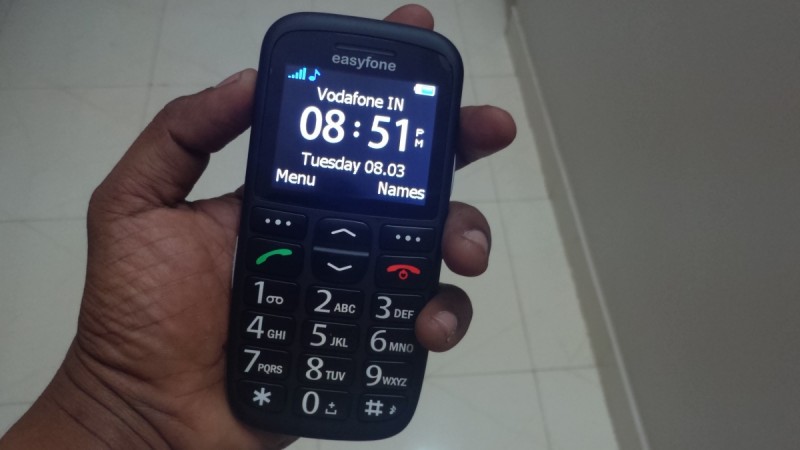 Gurgaon-based SeniorWorld launched a senior citizen-friendly handset dubbed as Easyfone in India in January. The new Easyfone is not a touch-screen based smartphone, but a feature-phone with a physical keypad.
India is on the cusp of a smartphone revolution and thanks to decline in prices of phone components, touch-screen devices are finding their way into many hands in the country. However, there are also users like senior citizens who are still hanging on to their compact feature-phones as they are durable and have a simple and easy-to-use interface.
Easyfone is one such handset, which primarily caters to this segment of users. It comes with a slew of features such as SOS emergency button, photo dial, numbers and alphabets in large fonts on the keypad, big screen, back-lit keypad and more.
In our test run, Easyfone has been able to impress us in most aspects.
Here's our take on Easyfone:
Design and build quality(4/5):
The Easyfone is compact and light. It easily fits in the hand and even users with smaller palms can operate it with a single hand.
The font size on the keypad are pretty big compared to normal feature-phones making it user-friendly for senior citizens.
The phone's cover is made of sturdy polycarbonate material. During the test, we dropped the Easyfone a few times on a hard surface from over five feet and it survived with no visible marks as such.
Interface (4/5):
Its interface is pretty straight forward, and users can access Menu in the left corner and speed dial list (10) in the right side of the display.
The Menu option consists of Phonebook, Messages, Call history, Alarm, Camera, FM Radio, Magnifier, Audio Player, Organizer, Settings and Juvo app.
Features (4.5/5):
SOS and Juvo app are the main aspects of the Easyfone. SOS, once activated via Settings, will help owners send quick alerts to loved ones and get immediate medical assistance.
The alert message can be passed on by pressing the SOS button on the back and the phone will sound an ambulance ringtone for five seconds as a precautionary measure to thwart false activation. If the SOS button is pressed again within five seconds, it will get switched off or else the phone will automatically send an alert message to pre-selected contacts with details such as phone's GPS location, owner's blood group, Doctor's name and number, phone's battery status and Insurance Name and policy number.
Value-added features:
Easyfone comes with physical unlock button on the right side. Users just need to press the key for a few seconds to open the screen.
On the left, the company has incorporated a handy torch button. Users need to slide up and down on switch on/off the LED light.
Charging cradle:
The company in its bid to make Easyfone charging user-friendly, has introduced cradle charger where in user can just put the phone (front-facing) vertically on the open slot.
Battery (5/5):
Besides SOS and senior citizen friendly features, another key aspect of Easyfone is its battery. In our test, the device lasted for more than three weeks under standby mode and close to four days under mixed usage.
Verdict (4.4/5):
All-in-all, Easyfone is an ideal phone for senior citizens. Its big-font keypad, SOS feature and battery life make Easyfone a compelling device to buy. It is available on Amazon India and on the company's official website for Rs 3,375.
Key features of Easyfone:
| | |
| --- | --- |
| Model | SeniorWorld Easyfone |
| Display | 2.2-inch QVGA (320x240p) screen with big alpha-numeric keypads |
| Processor | 1.2MHz CPU |
| RAM | 256MB |
| Storage | 32MB, expandable up to 8GB via micro SD card |
| Camera | Main: 0.3MP camera |
| Battery | 700mAh |
| Add-ons | Single SIM slot (type: full-size), Bluetooth v3.0, |
| Price | Rs 3,375 |