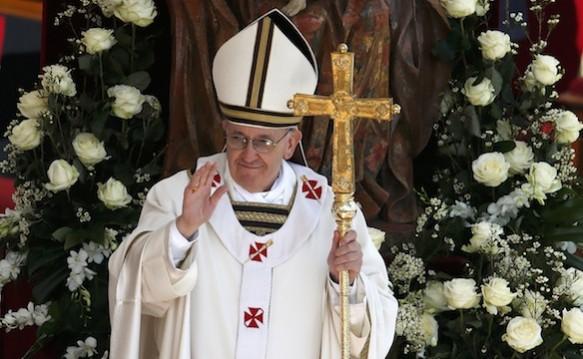 People all around the globe celebrated the resurrection of Jesus Christ on Sunday, 5 April.
From US President Barack Obama, Pope Francis, to Hollywood celebs like Beyonce, Miley Cyrus, Kim Kardashian, and Selena Gomez, many wished fans and revealed their Easter plans on social media.
Check out how celebs celebrated Easter 2015 below:
Pope Francis
Christ is risen! Christ is alive and journeys with us!
Happy Easter! pic.twitter.com/bpVYtx7zvi

— The White House (@WhiteHouse) April 5, 2015
@selenagomez: Missing my family today... Spent today with my LA fam. God bless everyone! Happy Easter!! pic.twitter.com/V7ypRBk2sv — Selena Gomez (@selenagomez) April 5, 2015
Happy Easter everyone! Love this throwback of Kourtney, Khloe and Me with our daddy finishing an Easter egg hunt! pic.twitter.com/PZnVWAFB1M

— Kim Kardashian West (@KimKardashian) April 5, 2015
Wesley Stromberg
Spendin time with family today has me thinkin bout how much yall mean to me! I am forever grateful that I have yall in my life! Happy Easter
Brooklyn enjoyed his Easter breakfast! x vb pic.twitter.com/ghlOWpoW5O — Victoria Beckham (@victoriabeckham) April 5, 2015
Little me.. Seester @haylieduff and the Easter pic.twitter.com/bkO1oIJ9hd

— Hilary Duff (@HilaryDuff) April 5, 2015
Sofia Vergara
Happy Easter!! https://instagram.com/p/1Gx4SfrpYy/
Kardashian Klan Went To Easter Services In Calabasas http://t.co/uncNwqcdN2 pic.twitter.com/fvo2CsOpjv — Afrossip Blog (@afrossip) April 6, 2015
Jordin Sparks
Happy Easter from the Sparks! (Don't mind my face lol) Incredible service, Pastor Mark. He paid our debt, the stone was rolled away & HE IS RISEN! Jesus will fill your emptiness, ease your fears, lift your guilt & conquered death for you! What a gift! So thankful! Have an amazing day! https://instagram.com/p/1GwPrXMUTS/
Happy Easter from everybunny here at my show. pic.twitter.com/zm2N7tyfTI

— Ellen DeGeneres (@TheEllenShow) April 5, 2015
Beautiful day with my boys for Easter. Look at these little hot shots!! pic.twitter.com/mhYra5Cksd — Britney Spears (@britneyspears) April 6, 2015
Jenna Dewan Tatum
Hope everyone had an amazing Easter!! Pretty sure Everly wishes the Easter bunny came every day
Miley, Cheyne, Braison spending Easter together pic.twitter.com/hHXMvSZAoh

— ☁️ Honeymoon Ave ☁️ (@MySmilersTeam) April 6, 2015
I know a lot of you are upset that you can't see my kids so here they are to say happy Easter... http://bit.ly/1D7GciPMore pics on SnookiNicole.com

Posted by Snooki on Sunday, 5 April 2015
Michael Grant Terry
Nothin' cuter than a dog puking in your bed on Easter.
I found the Easter @itsmarshallw pic.twitter.com/tUuOy93769

— Laura Dreyfuss (@lauradreyfuss) April 6, 2015
Carol Kirkwood
Morning! Hope you had a lovely Easter...and if you are off today, I am very jealous!!!xxx Have a very happy Easter xxx
When U try to go to sephora and then U remember it's Easter so it's closed @timethyheller @TiffanyMBrannon pic.twitter.com/ZNtjb46NXJ — Abigail Breslin (@yoabbaabba) April 6, 2015
Jennifer Hudson ‏
Easter egg hunt cake https://instagram.com/p/1HpHg6OEhE/
Love Easter with the kids pic.twitter.com/JRcEZCCns6

— Brian Welch (@brianheadwelch) April 6, 2015