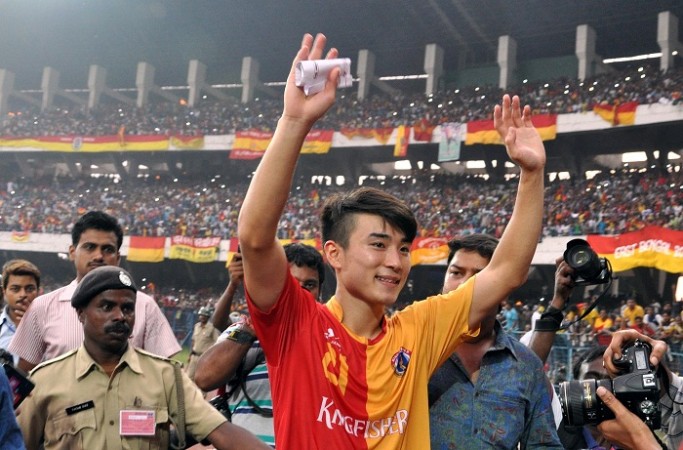 The two-most decorated clubs of Indian football – East Bengal and Mohun Bagan – are set to light up the Kanchenjunga Stadium in Siliguri, which is set to host the famous Kolkata derby, Saturday. Though this derby is primarily played in Kolkata, the excitement is high in Siliguri for the mother of all football matches in the I-League.
Tickets have been sold out for the Kolkata derby. Though the stadium capacity holds no comparison to Salt Lake, the venue in Siliguri will hold around 25,000 spectators, who will support their respective teams to the core.
Mohun Bagan stand at the top of the I-League standings, with 25 points from 12 matches, while East Bengal are five points adrift of the table-toppers in third position, with a game in hand. Players from both teams understand the intense rivalry, and will go all out for a win.
Earlier in the season East Bengal and Mohun Bagan shared points after the game finished 1-1 at Salt Lake Stadium in January. Such a result in Siliguri will disappoint East Bengal as they have to take three points from the game in order to inch closer to Bagan, and challenge for the title. Bagan, with a victory, can take an eight-point lead.
Bagan's strategy for the derby is simple. They do not want to concede goals.
"Our first priority always remains not to concede an early goal. In the early minutes of the game, we tend to focus on judging our opponents and then changing our gears according to our strengths and their limitations. When the two giants confront with each other, you can't expect anything less than an enthralling humdinger," PTI quoted Shankarlal Chakraborty, who is presently managing the club as regular coach Sanjoy Sen has been suspended, as saying.
Sen has been suspended for making "derogatory statements" against AIFF. His initial suspension read eight matches, but it has been reduced to four.
"I always believe that the derby is the final frontier. Be it player or coach, you'll always be tested in the derby. But for us, generally, everything is planned by Sanjoy Da," assistant manager Shankarlal Charaborty said.
Though Bagan might have plans to stop East Bengal from scoring, the Red and Gold Brigade's South Korean star, Do Dong-Hyun, who has been impressive against Bagan in the past, is hungry to score.
"I'm studying those two goals that I scored against Mohun Bagan. Freekicks and deadball situations play an important part in deciding the fate of any big match. I'm absolutely focused on Saturday's match. Given a chance, I'm ready to serve my team to the best of my ability," Goal quoted the South Korean as saying in The Times of India.
"I could have also scored in the previous derby (in the I-League's first leg clash against Mohun Bagan) with another freekick, but the ball just flew over the crossbar. My hunger to score and help the team win matches remains the same."
I-league Kolkata derby Complete Schedule:
East Bengal vs Mohun Bagan
Date: Saturday, April 2
Venue: Kanchenjunga Stadium in Siliguri
Time: 4:30 pm IST
TV listings: Ten Action (in India, Pakistan, Bangladesh and Sri Lanka).