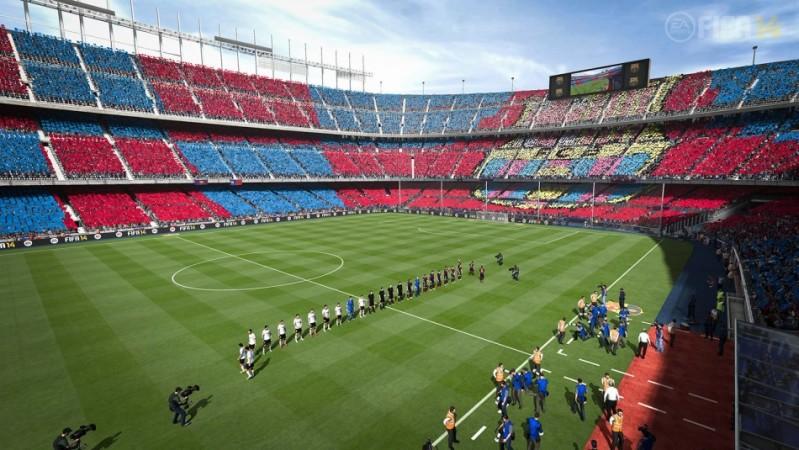 FIFA 14, one of the most anticipated sports game by Electronic Arts is available for Apple iOS and Android users through their respective app stores.
The game announced over the weekend by EA, includes 33 leagues, more than 600 licence teams and over 16,000 players to play from. Adding to the joy of Android and Apple users, the game is free to download.
Other features included in the game are:
Intuitive touch controls - One can tap to pass, swipe to shoot and can easily hold and drag to move a player.
Ultimate team mode - Buying and selling of FIFA 14 players is available for the users along with details like impact on team performance if a player is injured, suspended or eliminated from a team etc.
34 Stadiums are available for the players to play from, along with different number of language support for commentary.
One can even upgrade the game and can unlock three extra modes - Manager, Tournament and Kick-off.
FIFA 14 is also compatible with tablets. The game offers better graphics on tablets than on smartphones.
The game has already received a rating of 4.8 stars out of 5 in Google Play Store with positive reviews.
Android Details
-FIFA 14 is compatible with Android 2.3.3 version and above
-Requires memory of 1.3GB
-Current version 1.2.8
-Free Download
Apple iOS Details
-The game is compatible with iOS 5.0 and above
- Requires memory of 1.17GB
-Current version 1.0.2
-Free Download
The in-app purchases are also available for the game. Google PlayStore has not mentioned the details. However, Apple app store states:
-Premium Unlock $6.49
-100 FIFA points $1.29
-300 FIFA points $4.19
-500 FIFA points $6.49
-800 FIFA points $10.99
-1500 FIFA points $18.99
-2000 FIFA points $24.99
-4000 FIFA points $49.99
-Manager Budget 25 $6.49
-Manager Budget 100 $13.99
The game can be downloaded from iTunes and Google PlayStore.