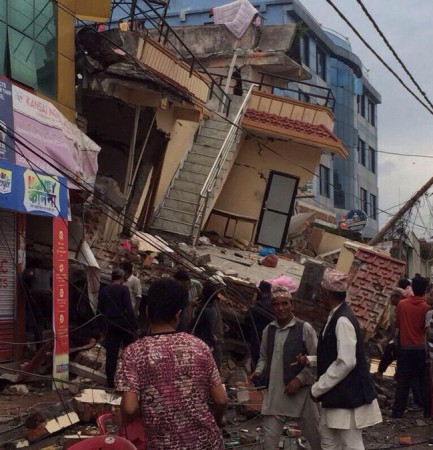 More than 7,000 people lost their lives in the devastating 7.9 magnitude earthquake that hit Nepal on 25 April, 2015.
However, two brothers have taken advantage of the situation by launching 'Earthquake T-shirts' in the country.
The 'Earthquake T-shirt' is the brainchild of siblings Tiken Limbu, 30, and Tenzing Nurbu Sherpa, who sell the product at ₹500.
The T-shirts, available in black and white shades, show a clock with the time, '11:56' am, the date, 2015/04/25, in Nepalese and Gregorian format, and the magnitude, 'Earthquake 7.9'. They are also available in round and V-neck patterns.
Check out the photo below:
Now, no-frills 'earthquake T-shirts' in Nepal for Rs 500 http://t.co/HAyf4MCvS8 (via @journoruchir) pic.twitter.com/Eyrs0HMxnm

— Hindustan Times (@htTweets) May 4, 2015
While Tiken has a hotel management degree, Tenzing is currently a student of hotel and tourism management.
"I came up with the idea the very second day after the earthquake. My brother helped me design it," said Tiken, according to the Hindustan Times.
The siblings are also planning to include the death toll on the back of the T-shirt later, along with the caption "God save Nepal".