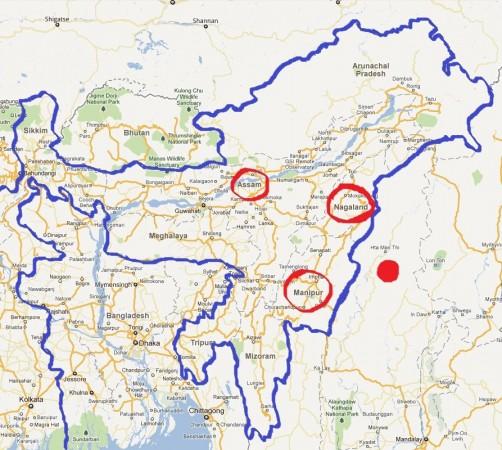 An earthquake of moderate intensity, measuring 5.9 on the Richter scale, rocked the North-Eastern parts of India, namely, Manipur, Assam and Nagaland and its neighboring countries, Myanmar and Bangladesh.
Officials identified the epicenter at the Indo-Myanmar border, at 25.1 degree latitude North, 95.226 degree Longitude East, about 130 km east of Imphal, the capital of Manipur.
The earthquake occurred at around 8.47 a.m. on Monday. It triggered panic among the people. However, there were no reports of casualties and damage.
Earlier on Sept. 4, there was an earthquake in Manipur's Ukhrul district.
Just two months ago, a 6.8 magnitude earthquake had struck the state of Sikkim and its neighboring North-Eastern states.
The Sikkim quake was followed by three more jolts. These quakes, measuring 5.7, 5.1 and 4.6 in magnitude, were felt as far away as Bangladesh.
Take a look at the map of North East India depicting the earthquake-hit areas and the epicenter.