---
Nuns being rescued by Italian firefighters
---
Around 12 people injured
Italy's head of civil protection, Fabrizio Curcio, has said at a press conference in the town of Rieti that "a dozen" people are reported injured, according to the Italian newspaper La Stampa. All the injuries are reported to be minor except for one who is said to be more seriously hurt.
---
Commission warned of more quakes on Friday
Italy's major risks commission cautioned Friday that there may be more powerful earthquakes to come following two this week in the country's mountainous centre and a deadly one in August. "There is no current evidence that the (seismic) sequence underway is coming to an end," it warned.
---
Here's some unverified footage of the moment the quake struck
---
Three pulled out alive from rubble
Three people have been pulled alive from rubble in the Marche town of Tolentino, the Italian newspaper La Stampa reports. There are reports that several buildings have collapsed in the town of about 20,000 people.
---
Monks searching for people who need Last Rites
The BBC is reporting that monks at the monastery of San Benedetto, an international Benedictine community in Norcia, have issued a statement: "The monks are all safe, but our hearts go immediately to those affected, and the priests of the monastery are searching for any who may need the Last Rites.
Here's the BBC's latest
---
Emergency workers are racing to determine if any people have been killed or injured in the 6.6 magnitude earthquake, the Associated Press reports.
---
In Arquata del Tronto, which had been devastated by the August 24 earthquake that killed nearly 300 people, Arquata Mayor Aleandro Petrucci said:
There are no towns left. Everything came down
---
UPDATE

There are no immediate reports of casualties, and the quake hit areas already evacuated following earlier tremors, but the damage to buildings is believed to be extensive.
---
An earthquake measuring 6.6 magnitude struck in central Italy on Sunday. There were no reports as of now about any damage or casualties.
The US Geological Survey had first estimated the quake intensity at 7.1 magnitude, issued a revision.
The the U.S. Geological Survey said that the earthquake was centered 68 km (42 miles) east southeast of Perugia. Its depth was about 1.5 kms. Two months ago, almost 300 people were killed in an earthquake in Italy that levelled small towns.
An earthquake of magnitude 6.4 also struck east of the city previous Wednesday, whose tremors were felt as far away as capital Rome.
According to AFP, the quake set dogs barking in the largely-abandoned towns of Norcia, Castelsantagelo, Preci and Visso, where residents had left their homes to sleep in cars or moved to the coast following this week's quakes.
"Everything collapsed. I can see columns of smoke, it's a disaster, a disaster," Marco Rinaldi, the mayor of Ussita, one of the pretty mountain villages hit hardest by the last quake, told journalists.
"I was sleeping in my car, I saw hell break out," he was quoted as saying.
Italy's civil protection department said there were "checks underway in all the towns affected by this morning's quake to determine whether there has been any damage to people or buildings."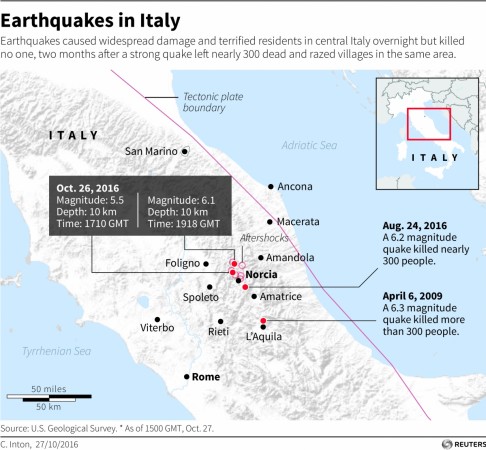 The Guardian quoted Cesare Spuri, the head of Civil Protection in Marche: "There are collapses everywhere. We report collapses in Muccia, Tolentino and in the areas surrounding Macerata, we're trying to establish if people are underneath the rubble. There was also a strong shock in Ancona."
In Rome, the quake caused far more concern than Wednesday's earthquakes as they were felt much more strongly and for a longer period. The metro in the city has been closed while safety checks are conducted.