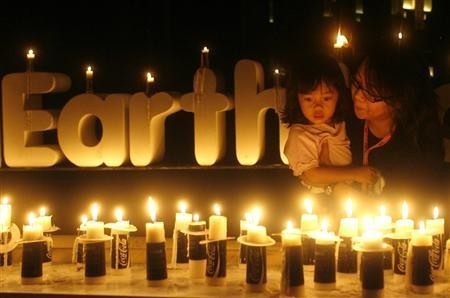 Millions of people around the world are expected to turn off the lights in their homes, shops, offices, markets including famous landmarks to mark the annual Earth Hour tonight Saturday 29 March 2014.
Earth Hour - a concept that was launched in 2007 in Sydney, has over the years become the world's biggest event on environmental issues ranging from deforestation to energy efficiency. This year, the event offers participants to help raise funds and participate in wide range of environmental issues.
The annual campaign led by the World Wide Fund for Nature, has encouraged millions of people across the world to turn their lights off tonight for an hour at 8.30pm, in their time zone. This year, Earth Hour will be observed across 7,000 cities and 154 nations, according to the organizers.
"Earth Hour is a symbolic action that highlights the need to tackle climate change. We've got a lot of buildings showing their support - the Harbour Bridge is going out, the Opera House is going out. But the most important thing is the families that we're expecting will turn off their lights and use the opportunity to have a conversation to reflect on climate change and what it is doing to Australia." ABC News quoted Anna Rose, Earth Hour's Australian manager.
"For us the symbolism or turning your lights off will always be important. But the big thing for us has always been how to push it beyond the hour. The stage we're at now is to make it really easy for people from their handset, tablet or laptop to be able to do something pretty immediate to make a difference. That's the holy grail for us - building a global collective movement, far beyond the event, where the event becomes a kind of inspiration but the movement is really the essence of it." Guardian quoted Andy Ridley, Earth Hour's CEO and co-founder.
Numerous iconic buildings around the world are participating in the campaign.
Among the world's renowned landmarks that will dim their lights are the Eiffel tower in Paris, Tower Bridge, Buckingham Palace, St Paul's Cathedral, Wembley Stadium and Trafalgar Square in London, Empire State building in New York, the Brandenburg Gate in Berlin.
Cardiff Castle, Brighton Pier and Edinburgh Castle in the UK are also taking part in Earth Hour.
In the United States, Golden Gate Bridge in San Francisco, the Space Needle in Seattle, and Times Square in New York will mark the Earth Hour.
Last year over 7,000 towns and cities across 154 countries took part in the Earth Hour.