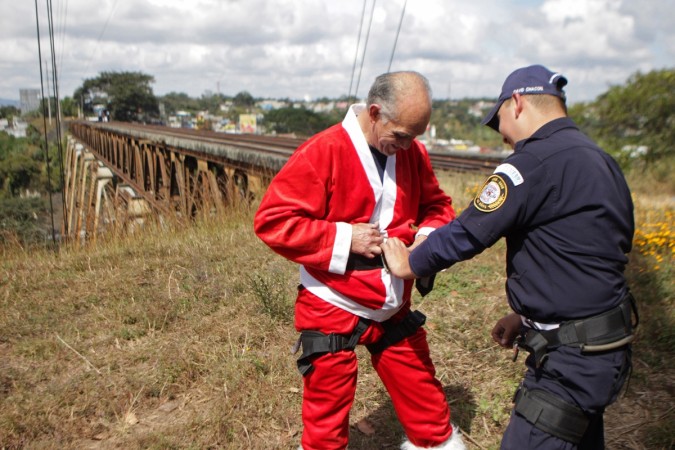 A fire-fighter Santa has gifted an Australian man the best gift for Christmas 2014, by saving his life.
On Saturday, as the Telarah fire-fighters were on their annual lolly run in the Rutherford suburb of Maitland, when they noticed smoke emitting from the front window of a house, reports Newcastle Herald. Firefighter Nick Carey, who was dressed in a Santa suit and his squad, which included Grant Norman, Bill Rowles and Joel Philip immediately sprang into action.
While incident controller Grant assisted Carey in breaking into the home, the rest of the lolly run gang made their way into the haze of smoke.
Once inside, they found a shirtless man in his early 20s, sitting unconscious on a chair. The youth was dragged on to the front porch, where in Caray and Norman performed CPR and revived him.
The fire-fighting heroes went back into the blazing home and put out the fire which began in the kitchen.
The unconscious man, identified only as "Wayne" by his neighbours, was taken to the John Hunter Hospital and is in a stable condition.
Norman revealed that since the men at Telrah fire station usually arrive from respective homes in case of an emergency and the station is usually unmanned, the man was extremely lucky that the squad was passing through the locality.
"We all come from home if we get a fire call, so it would have taken around 10 minutes longer," Norman said. "He was unresponsive when we came across him so every second counts; it was incredibly lucky."
A video of the incident was captured by Rutherford resident Michael Johnson, 66, and can be viewed at the Newcastle Herald website. "Without a doubt these guys saved this kid," Johnson said. "I want people to know what an incredible job they did and how lucky this person was that they happened to be there. "I guess you could say Santa's come early this year."