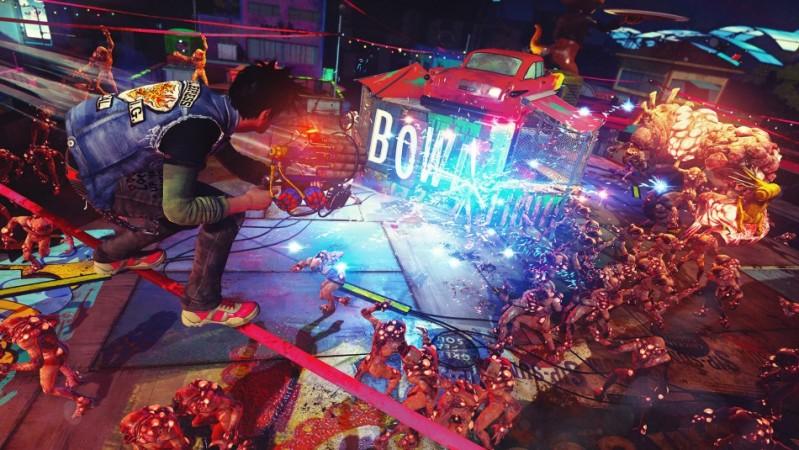 Microsoft this time will not only bring new video games but also will talk about its new entertainment apps, TV projects and many more.
It has named its media conference 'Game On.' "During the briefing, you'll be treated to everything from in-depth looks at previously announced games to trailers for our unannounced games coming in 2014 and beyond," said Larry Hryb of Xbox LIVE in his blog post. Phil Spencer, the head of Xbox previously tweeted that there would be lesser executives at the event and it is already overstuffed with game-related announcements.
What Games to Expect and Rumors:
Halo - Microsoft is likely to introduce Halo 5: Guardians which might likely get a teaser trailer outlining story. There have been rumors suggesting that Halo 1-4 Collection might be released for Xbox One. Halo TV project might also be part of the conference. Spencer had confirmed that Halo will be coming at E3.
Sunset Overdrive - This new Xbox One exclusive title might get a big colorful reveal. As Microsoft promises that this creation from Insomniac Games will be delivering "something the world has never seen before," and asks fans to be "prepared to have your mind blown."
Quantum Break – Upcoming third-person shooter title from developer Remedy Entertainment is likely to atleast get a teaser trailer for the game. It is also suggested that the game will showcase its content at the upcoming Gamescom 2014. This game will be an exclusive Xbox One title.
Call of Duty: Advanced Warfare – FPS title Advanced Warfare will also be shown at E3 as indicated by speculations. Developer Sledgehammer is working on the game. The game is likely to have advanced weather and destruction effects.
Forza Horizon 2 – Set in Southern Europe, publisher Microsoft Studios has indicated that this racing video game will be showcased at E3. A teaser video game was also posted. IGN reported that the game was running at 1080p and locked at 30FPS on Xbox One.
(YouTube Courtesy: Turn10Studios )
Gears of War - There is also a possibility that Gears of War's latest edition will be teased at E3.
Other games that might be shown include Fable Legends and more. Microsoft will also be talking about its support to indie developers, unbundled Kinect, HBO GO and Entertainment Apps. Microsoft might also give a glimpse of a new VR headset similar to Project Morpheus and Oculus Rift.
Time: Monday, 9 June at 9:00 am PT
Where to watch Press Conference Live:
Xbox.com
Spike TV
Windows Phone app