Ubisoft's Far Cry 4 showed the first gameplay trailer for this upcoming FPS title that continues the Far Cry series. Ubisoft opened its E3 2014 press conference by showcasing the trailer.
Far Cry 4 is set in a fictional world of Kyrat, set in the Himalayas. Players will control the character of Ajay Ghale who has returned to his birthplace to spread his mother's ashes. But he unfortunately arrives in the middle of a bloody civil war.
The main villain in the game is Pagan Min, a despotic but charismatic ruler of the region.
The gameplay explains that the game is inspired from Himalayan countries like Nepal and Bhutan. The smokes emanating from various mountains indicate temples which have treasure and loot. Players must be cautious to avoid danger from all sides as the game has mudslides that might take away ones life.
Players will be able to hunt animals similar to Far Cry 3. The game will introduce some new tools like grapple (allows us to climb mountains). There are places like adventure zones that allows players to make good use of the tools. The game introduces old crossbow that is useful in rapid fire and as a stealth weapon. However, the weapon will not be useful if the target is far. If players can look down while meleeing they can kick, a new and funny feature that will add to the elimination of some enemies too.
Players can make use of various vehicles like Tuk-Tuk (a bigger autorikshaw) or they can also ride on animals like elephants. The game allows players for driving shoots which also allows them to do driving takedowns from any vehicle without pulling over by leaping.
The game gives players a new and special feature – wing suit. This suit will let players to glide in air and very helpful in the mountainous terrain.
Elephants are another important part of the game. They can also be used against enemies by enraging them causing them to charge against your enemies. Players will also be able to sit on top of elephants and ride.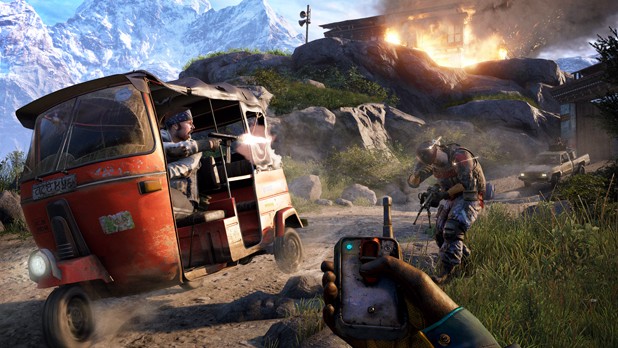 Guns for hire – This is also an important and massive part of the game where a second person joins your game – a co-operative play. Once a player asks friend to join, their solo missions will turn off and they will be able to experience the open world feature of the game. This feature will open up the game for players to gun down and liberate the outposts, fortresses, towers and all the quests. The progress made in this mode will be saved and there is no need to switch to any other mode.
This mode allows players to have a small single-man helicopter and the person who will land when called will be Hurk (from Far Cry 3's Monkey Business DLC), though the person playing will be your friend.
Sony had revealed at E3 2014 that PlayStation 4 players will be able to invite their PlayStation Network friends to join them. It does not matter if these friends have a game copy or not. It is not clear if there will apply for other release platforms of the game.
Far Cry 4 will be released on 18 November for PC, PlayStation 3, PlayStation 4, Xbox 360 and Xbox One. The game is expected to do better than Far Cry 3.
(YouTube Courtesy: farcrygame)
(YouTube Courtesy: farcrygame)