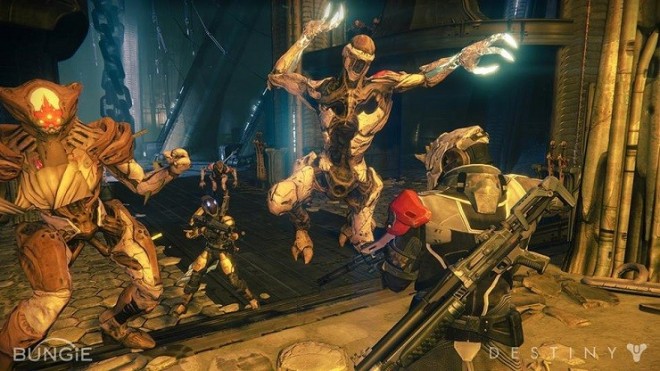 Developer Bungie's upcoming MMO action RPG title, Destiny was showcased at E3 2014 and new details have trickled out of the event.
Destiny carries a story with the last defenders of humanity, Guardians protect one of Earth's last city. The game is set in a post-apocalyptic world.
No Split Screen Co-op
One of the trademarks of Bungie's Halo franchise was their spilt screen co-ops. But this will not be repeating with Destiny, since there will none of this. The reason for not having it is due to developer's plans for the game.
It said that though the people at the studio love the feature, the game will not be supporting it as it will not suit the single player.
"We're actually not supporting split-screen in Destiny. We love split-screen. Obviously we have a legacy of supporting it. We know a lot of players love it. We love it. But we really wanted to untether guardians. Even if you're in a fireteam, you can go wherever you want. That level of freedom was really important for us. We know some players really like split-screen. Ultimately, you can't build a game to suit every single player out there," said Eric Osborne, community manager, Bungie during the E3 event, reported GameSpot.
However, it was also hinted that the feature might be included in the future and the studio will be listening to the feedback from players.
"The good news for us is with a new IP you get an opportunity to set a foundation in place. You get to see what players do; see what the community loves about it. You get to be reactive. And the reality is we have no idea what people are going to do, what they're going to fall in love with in this world," he added.
Targets 1080p/30fps on Xbox One
Bungie has said that the game is aiming for running at 1080p/30fps, at E3, said Geoff Keighley of GamesTrailers in his tweets.
After @xboxp3 interview I've been asking devs about impact of new Xbox sdk on perf. Bungie says it will get Destiny to 1080p/30fps on XB1.

— Geoff Keighley (@geoffkeighley) June 10, 2014
The reason for this increase in the resolution is Microsoft providing June Xbox One SDK for developers that will by and large boost the GPU power in the console.
There has been no information on the resolution and frame rate of PlayStation 4 presently. Earlier, Phil Spencer had said that there will an increase in the resolution of Destiny as a result of June SDK but he had not giving out the specifications.
New Trailer Speaks about Story and Multiplayer Modes
A seven minute gameplay trailer of Destiny was shown at the E3 2014. The trailer was narrated by Jason Jones, co-founder of Bungie. It showcases the story and the multiplayer modes.
Jones said that the game will take players to the "next-gen first person shooter" where they will be able to "explore the abandoned ruins of an ancient human civilization long after it is been overtaken by enemies." Amid the downheartedness that the "darkness will be coming back" there is still hope from the last surviving city on planet Earth.
The 'Tower' in the game is the center for all the humans in the game and it is where people will return to after coming back to Earth. Here players will be able to claim their rewards, buying and selling weapons and other gears and meeting up with friends.
Players will be given the option to choose what race they want to be and can choose the classes. All the appearances in the game can be customized. Players will be earning weapons, armor and combat abilities when they go out and fight with rivals. Classes can be upgraded and play style perfected in Destiny.
Once the enemies are defeated, more regions will be unlocked and there will be more places to go. The video also explains a new feature in the game, The Director that will be answering things like what a player should do or what can a player gets if he goes to battle.
Destiny allows players to different things like a story campaign, where one can explore the mysteries of world that was lost.
Multiplayer mode: The game has been designed to be played co-operatively - though match making or with friends. Players will be able to join other public events, which can be done on the fly said Jones. After participating in these events, players will be able to come back and continue their journey. They will also be able to make good use of the open world setting of the game and explore it with friends. They will also be able to team up with other players and take down an epic boss in a Strike mode.
Crucible mode - Guardians can be taken into this intense competitive multiplayer mode and fight the enemies.
Vault of Glass mode – is one of the most challenging of all the modes and players winning it will get Destiny's ultimate reward.
(YouTube Courtesy: destinygame)
Sony Exclusive Destiny Bundle
Sony has announced that it will be introducing a new PlayStation 4 Destiny exclusive bundle – 'Glacier White' costing $449. There are also plans to introduce an 'Urban Camouflage' DualShock 4 for $59.
Release Date
Destiny will be releasing on 9 September for PlayStation 3, PlayStation 4, Xbox 360 and Xbox One. The alpha version for the game will be released on 12 June and open beta starts on 17 July for PlayStation consoles and later to Xbox consoles.