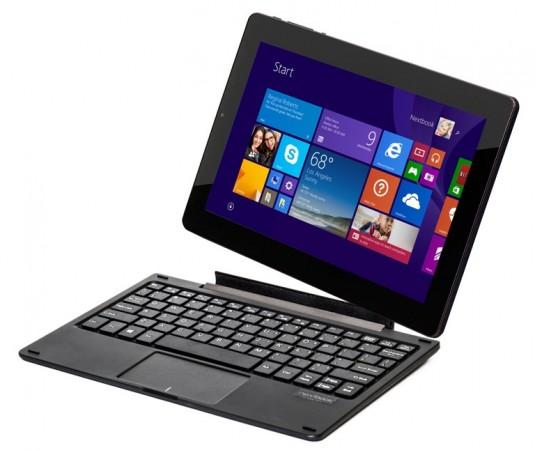 E Fun is taking a long shot in the 2-in-1 tablet space, which is widely dominated by Microsoft's Surface Pro lineup. The high-end computing experience on a Surface Pro comes with a hefty price tag but if you are willing to give up on some comfort, E Fun's trio of new Nextbook tablets is where your search ends. The California-based tech company is expanding its Nextbook line in an effort to bring an affordable solution to those who are wary about their budget.
E Fun's new Nextbook tablets may not be even a close match to the $1,950-worth Surface Pro 3, but it gets the work done. E Fun Nextbooks come in three sizes, starting from 10.1-inch, 11.6-inch and 12.5-inch. The smallest tablet in the group sports a 1280 x 800 pixel IPS display while the 11.6 incher and the 12.5-inch models are slightly better at 1366 x 768 pixels. All three tablets are powered by a 1.8GHz quad-core Intel Atom processor with a 2GB RAM and Windows 8.1. The entry-level model has 32GB built-in storage while the other two models get 64GB and a microSD card expansion for all devices.
What's interesting here is the magnetic keyboard to give users a seamless PC computing experience. The keyboard has a USB port, a micro USB port, mini HDMI port and an audio jack. All three devices sport 2-megapixels rear and front facing cameras with microphones for video conferencing and the 2-axis sensors elevate gaming experience on the tablet.
The entry-level 10.1-inch model makes quite an impressive bargain with free one-year Office 365 Personal subscription, 1TB OneDrive storage for one year and 60 Skype minutes per month, according to E Fun.
"We are extremely excited to build on the great success we had launching our first tablets with Windows in the fourth quarter of last year," Jason Liszewski, managing director and VP of sales for E FUN, said in a statement. "Our first 2-in-1 tablet with Windows and powered by Intel was one of the best selling devices by volume throughout the holiday season."
The new Nextbook tablets are set to go on sale this May. The 10.5-inch model will have a price tag of $229 and the 11.6 incher will retail for $249. Finally, the largest of the trio, 12.5-inch Nextbook will be available for $279.