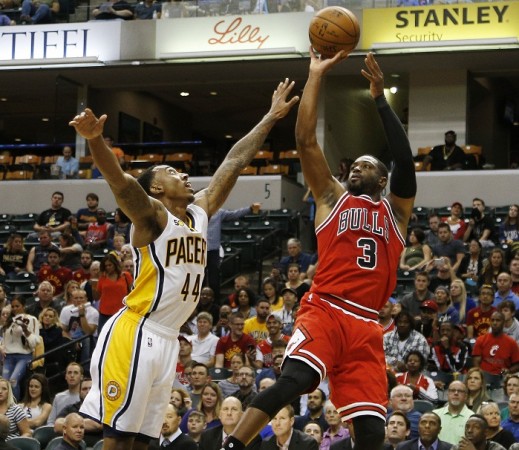 Chicago Bulls' Dwyane Wade was in an unfamiliar territory on Thursday, playing against his former team Miami Heat at the American Airline Arena, where he won NBA titles in the past as well. The player, who was the fans' favourite, during his playing days in Miami, before his free agent move to Bulls, received a good response from the fans.
All eyes were on Wade for this crucial encounter, and his team did just enough to script a win in the tight encounter, 98-95.
It might not have been the usual Wade-type of performance, dominating and top-scoring, but it was enough to help his team win their fifth match of the season. However, it was Jimmy Butler, who looked in brilliant form for the Bulls to help them beat Heat. Buttler scored 20, while Rajon Rondo and Robin Lopez also contributed with 20 points each.
Right from the first quarter, the match was amazingly tight with players not giving an inch to the other. If Bulls enjoyed one point lead at the end of first quarter, Heat enjoyed the same in second. After the third quarter was tied at 17-17, the fourth and final quarter proved to be the deciding one, and Bulls just edged it 28-25 to clinch the massive game.
In one of the other NBA games, Golden State Warriors defeated Denver Nuggets, comfortably, score reading 125-101. When Stephen Curry, who scored 33 points, gets his shooting game right then the Golden State does not have much reason to worry. The showman is in rich three-point shooting form, and made seven from beyond the arc.
And the regular contributors, Kevin Durant and Klay Thompson, scored 18 and 19, respectively. One of the best things about this team is that one player or the other, most of the times, leads from the front to steer his team to victory.
The Warriors got off the blocks brilliantly in the game against the Nuggets, scoring 18-19, and it was always going to be an uphill task to catch the visitors from there. Despite some determined performance from Jamal Murray, scoring 14 points, the Warriors did not face much trouble from the home team, who lost 101-125.