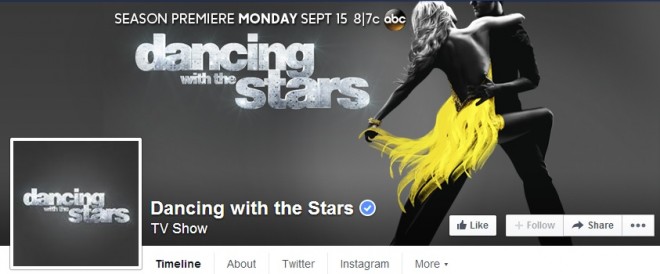 "Dancing with the Stars" contest Janel Parrish has sparked rumours that she might be dating her dancing partner Val Chmerkovskiy after the two were spotted getting a bit too close for comfort backstage.
A number of behind-the-scenes moments from the premiere were telecast on Tuesday night, and it featured a segment with Parrish and Chmerkovskiy, which showed the two indulging in public display of affection. While it might have been a friendly gesture, a number of reports have since come out claiming that the two might be more than just friends.
The footage showed Parrish and Chmerkovskiy talking after their performance, and Parrish can be heard telling that she wanted better scores.
"I'm not happy because you're not happy," Chmerkovskiy said backstage, looking upset that Parrish wasn't happy with their score. "I just thought it would be better," she said.
The two then proceeded to kiss and Parrish even said "I love you!" to Chmerkovskiy.
It is not immediately known if their public display of attention is just for the show or if the two are indeed dating. But the last we heard, Parrish was involved with actor Payson Lewis, who tweeted his support to his girlfriend soon after the results were announced on Tuesday.
"SAFE! janelparrish @iamvalc #dwts #teamjanelskiy," Lewis wrote. This tweet follows another message where he called Parrish his inspiration. "Here's to the one I love; my inspiration, my best friend. Today is your day janelparrish Now go kick…"
Ever since their debut performance, a number of reports have come out stating that Parrish and Chmerkovskiy might be the next hot couple on DWTS, and host Erin Andrews too commented that she could feel the love in the air.
"There is some blossoming in this relationship," she said to the pair, a statement Chmerkovskiy agreed with. "I love that her and I have a natural chemistry about us and hopefully it will blossom into something awesome," he said.
The behind-the-scenes footage showed that there was a strong sexual tension between the two, which will hopefully be played out in the upcoming episodes.
Season 19 of "Dancing with the Stars" premiered on 15 September and the "Pretty Little Liars" star, whose character was killed off in the series, and her professional dancing partner jived to "Bang Bang," earning them a score of 29 upon 40.