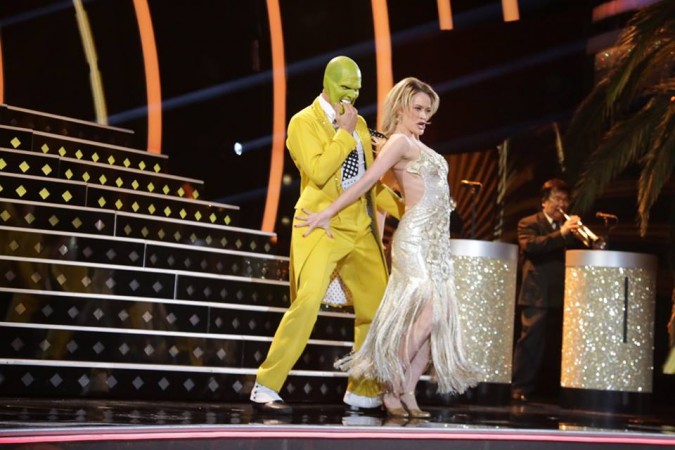 Deaf contestant Nyle DiMarco is clearly the frontrunner for the Mirror Ball Trophy on Season 22 of "Dancing with the Stars." But all the adulation seems to have gone to his head, as the model appeared overconfident during Monday's act where he did a quickstep to "Hey Pachuco!" from "The Mask."
Ahead of his performance, he called himself a frontrunner and later on hinted that he was as good as the professional dancers on "Dancing with the Stars." The "America's Next Top Model" alum also claimed his only true competition was Val Chmerkovskiy. This comment did not please judge Len Goodman, who asked DiMarco not to annoy people with his arrogant behaviour.
"You're a good dancer, but don't start saying, 'I'm as good as Val [Chmerkovskiy],' because you're just annoying people. That's ridiculous," said Goodman, before praising the model for his wonderful performance.
DiMarco's comment has not won him a lot of fans. Based on a few Twitter reactions, it looks like he has lost a few fans due to his overconfidence. "Nyle was my favorite but that cocky attitude cost him my votes this week. #dwts #NyleDiMarco @DancingABC," wrote on fan. "Confidence is sexy, being cocky is ugly. Remember the difference for next week @NyleDiMarco #dwts @PetaMurgatroyd either way, great job," another wrote.
Shortly after the performance, DiMarco took to his microblogging account to clarify his comment. Here's what he wrote:
Like playing a sport as a newbie, you would study Professionals as if they're "to beat"... Only to push yourself.

This is why I study Val.

— Nyle DiMarco (@NyleDiMarco) April 26, 2016
I can't lie... #DWTS stars are great!!

It is just how I strategize towards the Mirror Ball and I think it is not wrong

:)

— Nyle DiMarco (@NyleDiMarco) April 26, 2016
"Dancing with the Stars" airs Mondays at 8 p.m. ET on ABC.