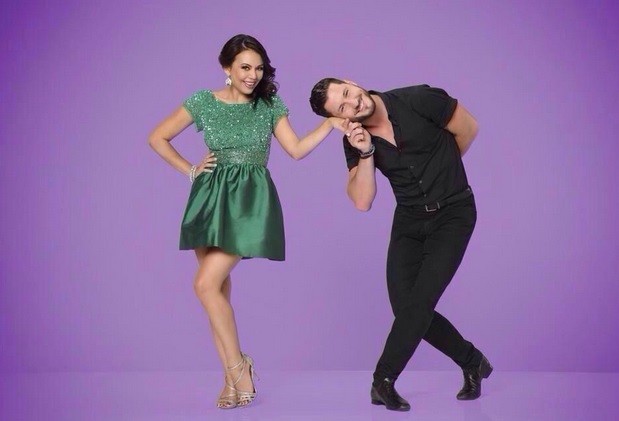 Speculations on whether the Janel Parrish-Val Chmerkovskiy romance is the real thing have been buzzing since week one of "Dancing with the Stars," and reluctance of both the people involved in the alleged affair to speak out on the issue has done nothing to stifle rumours.
However, on week two of the dancing reality show, the hottest dancing couple of the season, was less touchy-feely, probably to end rumours of a romance. But a Radar Online source revealed that they have been getting hot and steamy during rehearsal sessions.
"They looked like they were about to hook up," a source close to production told Radar Online. "They looked like they were getting hot and steamy on the dance floor. They spend so much time together and they are so touchy feely and all over each other," the source said. "It happens sometimes on the show."
But it remains doubtful if the alleged fling will last post the finale, the source added.
"It's a short-lived romance," the source explained. "You spend so much time with that person and then it's over. It usually doesn't last past the finale, but it is normal. It's like a short-lived romance. It's like going on spring break or a teen tour. You go away for six weeks and find a boyfriend and go back to high school and it's over."
Parrish, best known as Mona on "Pretty Little Liars," is dating fellow actor Payson Lewis, who was among the audience during her debut performance of "Dancing with the Stars" season 19. A number of fans of the actress have come out in her defence, stating that she would never cheat on her boyfriend, and that her amazing chemistry with Chmerkovskiy shouldn't be mistaken for an affair.
The second week had the couple dancing a Foxtrot to "Call Me Maybe" by Carly Rae Jepsen, and they were scored 34/40, a much better score than their debut performance.
"It felt great," Janel said after the dance. "I'm so happy!"
"She did great, I'm really proud of her," Chmerkovskiy said. "She works hard."