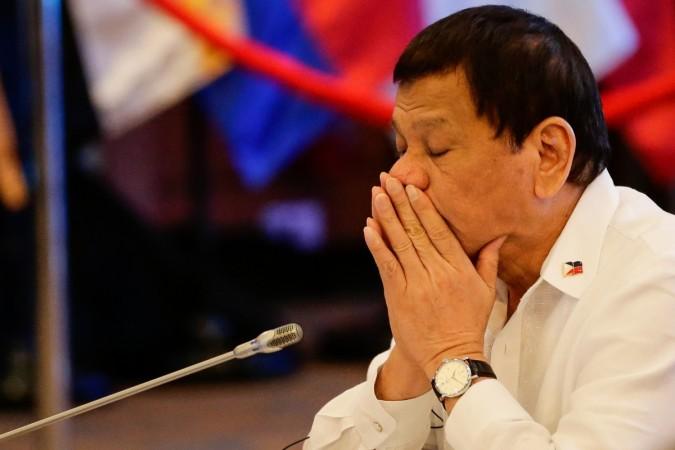 Philippines President Rodrigo Duterte has landed in another controversy after he kissed a woman on her lips during an official visit to South Korea on Sunday (June 3).
Though many Filipinos defended their leader's action by saying that it was a harmless kiss, several critics have expressed their disgust and described it as his "perverted way" of taunting his female critics, who often call him a misogynist for his remarks about women.
Presidential spokesman Harry Roque told CNN affiliate CNN Philippines that it was a light moment that is well accepted in the Filipino culture. He also mentioned that the kiss was "what makes the President popular among our people."
However, women's rights group Gabriela on its website condemned the act and said it was a "disgusting theatrics of a misogynist president who feels entitled to demean, humiliate or disrespect women according to his whim."
Opposition senator Risa Hontiveros said Duterte "acted like a feudal king who thinks that being the president is an entitlement to do anything that he pleases."
The incident happened when the 73-year-old president invited two female audience members on stage and said that he would present them the book, "Altar of Secrets: Sex, Politics, and Money in the Philippine Catholic Church," in exchange for a kiss.
This is not the first time that Duterte has come under fire for his actions. Here are five incidents when the president disgusted the world with his remarks about women.
1) In May 2018, Duterte said he is ruling out politicians, especially women, as the Philippines' next Ombudsman, who will be responsible for investigating and prosecuting Philippine government officials.
"They will nominate, but I will choose, and I want a person who is admired by people because of his integrity. Of course it could not be a politician, especially not a woman," he said, as reported by rappler.com.
2) In February 7, 2018, the Filipino leader, during a gathering with former New People's Army members, asked soldiers to shoot female communist rebels in the vagina.
"There's a new order coming from Mayor. We won't kill you. We will just shoot your vagina, so that – if there is no vagina, it would be useless," he said to more than 200 former communist soldiers, as reported by the same website,
3) In 2017, while defending his war on drugs and killing thousands in the country, he said: "What I don't like are kids (being raped.) You can mess with, maybe Miss Universe. Maybe I will even congratulate you for having the balls to rape somebody when you know you are going to die."
4) In 2016, Duterte joked about an Australian missionary who was raped and killed during a jail siege in Davao City.
He said, according to Sydney Morning Herald, "I looked at her face – son of a bitch – what a waste. What came to mind was, they raped her, they lined up... I was angry because she was raped, that's one thing ... but she was so beautiful, the mayor should have been first. What a waste."