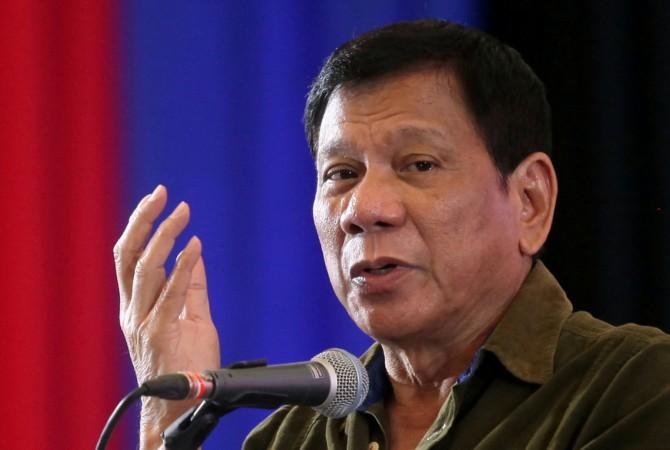 U.S. President Barack Obama cancelled his meeting with Philippines President Rodrigo Duterte that was scheduled to take place on Tuesday after the latter described Obama in obscene terms. However, Duterte later expressed regret over his comments on the US leader.
#BREAKING Philippines President Duterte expresses regret over Obama comments

— AFP news agency (@AFP) September 6, 2016
"Who does he think he is? I am no American puppet. I am the president of a sovereign country and I am not answerable to anyone except the Filipino people... You must be respectful. Do not just throw away questions and statements. Putang ina (son of a b****), I will swear at you in that forum," Duterte said in a televised news conference on Monday referring to Obama. He added that he would not allow the US president to lecture him on human rights.
Obama, who is in Laos for meetings with South Asian leaders, had earlier said that he would confront Duterte about his way of dealing with the country's drug problem as well as the extrajudicial killings (government executions without the benefit of judicial proceedings) when the two leaders meet in Laos. Duterte responded angrily following the warning, CNN reported.
"As a matter of fact, we inherited this problem from the United States. Why? Because they invaded this country and made us their subjugated people. Everybody has a terrible record of extrajudicial killing. Why make an issue about fighting crime? Look at the human rights of America along that line. The way they treat the migrants there," the Philippine president had said holding US responsible for the unrest in Mindanao, an island located in southern Philippines.
The US president will instead have a meeting with South Korean President Park Geun-hye, Spokesman for the White House National Security Council Ned Price said on Monday.
Responding to the vulgar remarks, Obama said that Duterte was clearly a "colourful guy" and that he had asked his team to "talk to their Philippine counterparts to find out is this in fact a time where we can have some constructive, productive conversations." He added that he would still "undoubtedly" bring up the issue of drug crime and extra judicial killings "if and when" the two leaders meet, the Associated Press reported.
"The issue of how we approach fighting crime and drug trafficking is a serious one for all of us. We've got to do it the right way. Undoubtedly, if and when we have a meeting, this is something that's going to be brought up. And my expectation, my hope, is that it could be dealt with constructively," Obama said refusing to shy away from the way the matter was being taken care of.
Duterte has waged a war against drug dealers and handlers since he took office on June 30 with over 2,400 people being killed in police anti-drug operations and by suspected vigilantes, Al Jazeera reported. He also dismissed criticism from the Catholic Church, human rights groups, politicians and the United Nations.
"More people will be killed, plenty will be killed until the last pusher is out of the streets. Until the (last) drug manufacturer is killed, we will continue and I will continue," he said in his speech on Monday.