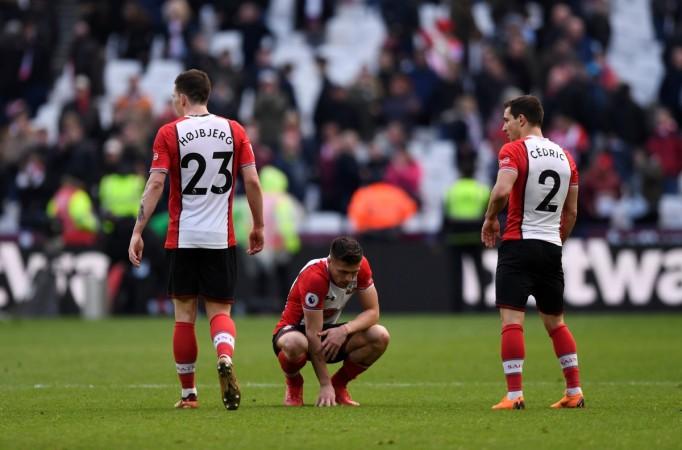 Southampton midfielder Dusan Tadic has said the team felt "ashamed" of its performance in the 3-0 defeat to West Ham at the London Stadium.
A Marko Arnautovic brace gave the Hammers a convincing win over their relegation rivals and took them up to 14th on the league table, five points clear of Saints, who are 18th.
The visitors failed to register a single shot on target at the London Stadium and now face a tough fight to secure their Premier League status, with five of their remaining seven games against teams in the top half of the table.
Tadic described the West Ham defeat as the lowest point of his career as a professional footballer.
"It's very hard to talk. We feel ashamed. We lost 3-0. It's a very bad feeling and we have to take responsibility. It's just our mistakes, all of the players. It's not the mistake of somebody else, it's just our mistake," the Serbia international told the Daily Echo.
"We need to be men, we need to take responsibility and to know what kind of situation we are in. We are in a tough situation.
"I've been here when we had the best results of all time for Southampton and personally I feel very ashamed and it's a very tough moment."
Tadic refused to blame new manager Mark Hughes' tactics for the loss against West Ham and said players had to take more responsibility on the pitch.
"Every game you play you try to win but obviously something is wrong; by this I mean something with me and all the players," he said.
"Something is not good. It's not the fault of the coach, it's not the fault of the fans. It's not the fault of anyone else, it's just our fault.
"We should be ashamed that we are in this kind of situation."
Hughes replaced Mauricio Pellegrino as Southampton boss last month and guided the club to the semi-finals of the FA Cup with a victory over Wigan in his first game in charge.
The Welshman said his team paid dearly for conceding two goals in the opening 17 minutes against West Ham.
"We were poor," Hughes told BBC Sport. "The opening 10 minutes of any game is key, you have to manage it correctly and we damaged ourselves."
Southampton's next league assignment sees them traveling April 8 to Arsenal.