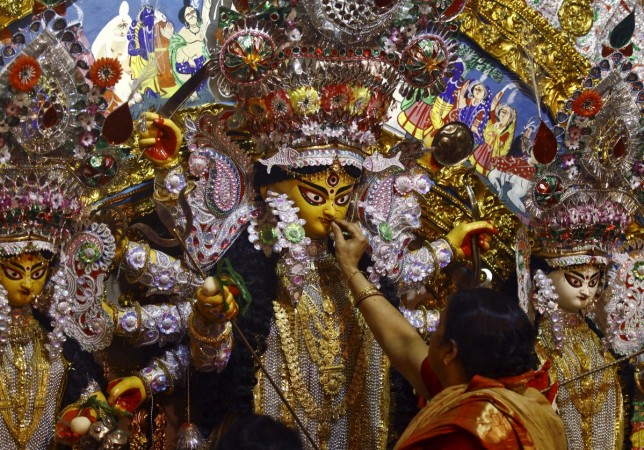 Durga Ashtami (Durgashtami), also known as Maha Ashtami (Mahashtami), is celebrated on the eighth day of Durga Puja celebrations. Ashtami, which is one of the most important days of the nine-day festival Navratri, is celebrated on Ashtami tithi of Chaitra month as per the Hindu calender. This year, it falls on Sunday, October 9.
According to the legend, Goddess Kali appeared from the forehead of Mother Durga on this day and defeated the demons Chanda, Munda and Rakthabija. As part of the Durga Puja rituals, 64 Yoginis and Ashta Nayikas are worshipped on Durga Ashtami.
Check out best messages, wishes and greetings to be shared on Durga Ashtami 2016:
May the divine blessings of the goddess be with you on the auspicious day of Ashtami and always! Wish you a Happy Durga Ashtami 2016.
Nine evenings of party and prayer
May Maa always keep you in Her
May all your problems leave you
Praise her each Navratri Day.
Happy Durga Ashtami.
Durga Puja is a blessed time
Rejoice in the glories of Maa Durga
Celebrate all the blessings of Goddess
With your friends, family and acquaintances
Happy Durga Ashtami.
May the happiness of this Navratri season
Remains with you throughout the year
May Durga Devi bless you abundantly
With endless happiness and prosperity.
Happy Durga Ashtami.
On this auspicious day of Durga Ashtami
let's pray for the well being of our family,
With the blessing of Devu who can resolve all the problems
Who can care us with love.
Happy Durga Ashtami.
May the festival of Durga Ashtami fill you life with prosperity. May you have a smooth year ahead with the love and care of the goddess. Happy Durga Ashtami.
May the festive season of Navratri brightens your life by adding more colour to make it bright. May the Goddess removes all the problems and gives you enough strength to lead a peaceful life. Happy Maha Ashtami.
On this auspicious festival of Navratri, may Maa shower prosperity to your family.Wishing you a happy durga puja