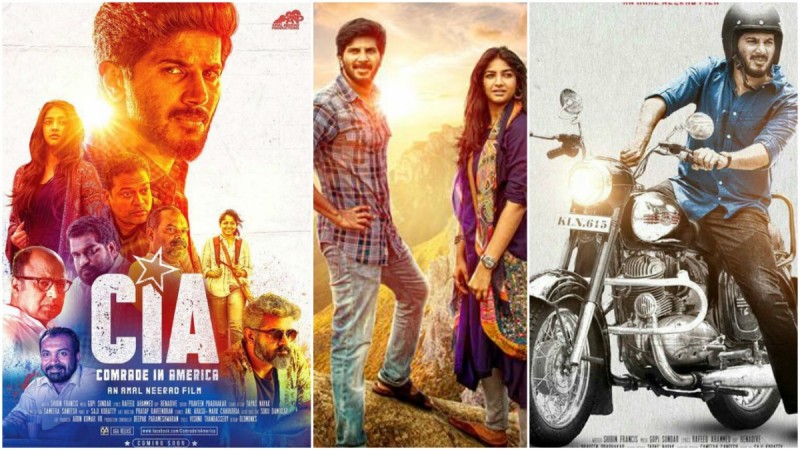 Slow motion scenes and power-packed action sequences with guns are the first things that come to every Malayalam film viewers' mind whenever we hear the name Amal Neerad. With Dulquer Salmaan's Comrade in America aka CIA, looks like the filmmaker has come out of his comfort zone as this belongs to the political romantic comedy entertainer genre without much superficial moments.
Unlike the cult action movies of Amal, CIA is driven by Aji Mathew's romance, and his challenging journey to the US to meet his lady love. It also has Soubin Shahir, Siddique and Dileesh Pothan's one-liners that keep us entertained throughout. Interestingly, the movie takes a dig at a few politicians in the wake of the recent developments in Kerala politics that could create laugh riots in theatres. Even Prime Minister Narendra Modi's non-stop foreign trips have become a situation for humour in the film. Not just Modi, US President Donald Trump is also not spared!
Storyline
Pala-based Aji, who is called Ajipan by his friends, is a die-hard communist by heart, though his father Mathew (Siddique) is a trusted companion of Finance Minister Korah of Kerala Congress. He is a student leader, who dares to fight for the rights of students and even against the finance minister.
Aji falls in love with NRI Sarah Mary Kurian (Karthika Muraleedharan) and just like the tagline of the movie "how far will you go for love," CIA shows how faithful he is when it comes to relationship. He dares to take all risky steps just to meet her in another part of the world. After a light-hearted first half, the movie's second half goes through the struggles of every illegal migrant, who are denied a visa to the US. What will happen to Ajipan and a group of illegal migrants, who attempt to enter the US through the Mexican border? One thing for sure, the entire journey makes Ajipan a more matured person.
Performance
With his impressive performance, DQ proves to be the right choice for portraying the role of Aji, who exists as a helping hand to many, just because of his communist ideologies. After Ustad Hotel, Siddique and Dulquer are again seen as father-son duo, and this time their chemistry is sure to make many jealous of them.
Interestingly, communist leaders Marx, Lenin and Che Guevara "also play significant roles" as the role models of Aji. Special mention for casting those three actors, who totally fit for the roles. Both Soubin and Dileesh manage to entertain whenever they appear onscreen together. Parvathy T, Chandini Sreedharan, John Vijay and Jinu Joseph have done justice to their roles. However, Karthika's performance is not extraordinary and needs improvement.
Technical aspects
Amal has always impressed audience with his directorial ventures, and CIA can also be considered a golden feather in his cap. Though the filmmaker has come out of his cult action movies, guns surely are inevitable parts of Amal movies, and DQ gets a chance to use one of those international weapons in a scene.
Renadive's cinematography capturing beautiful visuals and Gopi Sunder's spot on background score keep us engaged, and they remain the movie's major highlights.
Though the theme of illegal immigration to the US itself is a new subject for Malayalam audience, the weak point of CIA is its immature script, especially in showing the in-depth relationship of Aji and Sarah. It feels like a time-pass love affair, until Aji decides to leave for the US.
In the first half, Aji's heroism gets more prominence than the whole love affair, which becomes the sole reason for the entire second part of the film. The makers have even dedicated a stunt sequence just to show off machoism where the hero fights alone against over 10 people, and obviously DQ doesn't get injured!
Though the second half is all about illegal immigration to the US, the sacrifices that people usually make hoping for a better life are not well portrayed. Though the guide asks women to carry condoms as they might get raped by drug cartels or violent gangs, the women in Aji's gang are of course safe, after all a hero is with them.
But will more and more people take this risky route for a better life in the land of opportunities getting inspired with what DQ does in the movie? That's the blame the makers will have to handle for making some aware of this way that actually exists!
Final Verdict
Comrade in America is an entertaining flick with Dulquer's impressive performance, few one-liners, beautiful picturisation, catchy music and after all with Amal Neerad touch. It is not just a movie to hail communism, and degrade others; communism just exists in the background that becomes the life for Aji, unlike what we have seen in Oru Mexican Aparatha or Sakhavu.
IBTimes India Rating: 3.5