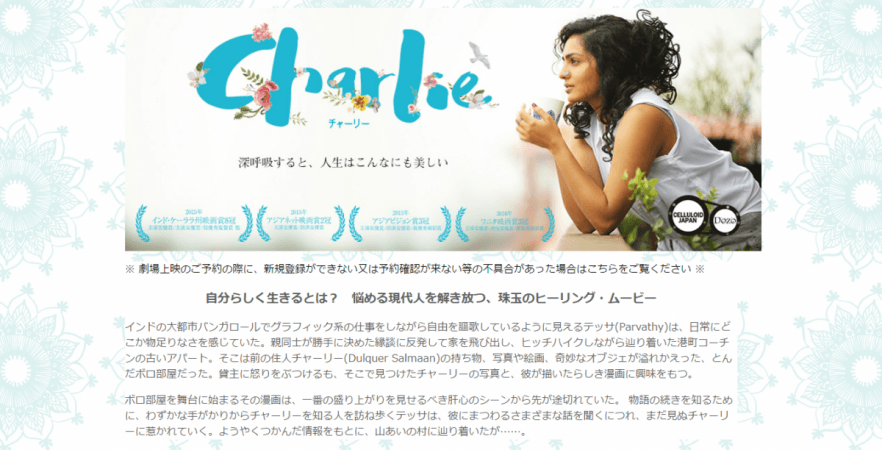 Dulquer Salmaan's blockbuster movie "Charlie" has made history by becoming one of the most loved Indian movies in Japan. The movie, starring Dulquer Salmaan and Parvathy, was released with Japanese subtitles in the country on May 15.
From the response of the audience, it is evident that the Martin Prakkat movie has brought quite a lot of positive energy and smiles on their faces. A video of the audience response has been shared on the Facebook page of Indian distribution company Celluloid Japan, which had screened the film in association with the Japanese company, Dozo.
"I was able to deeply inhale. My body is totally filled up with fresh air. This is the film that healed me a lot. Wonderful, wonderful film it is," a Japanese woman said after watching the movie, which had completed 100 days of its theatrical run in Kerala.
"The vivid Indian culture was well described, lyrics of songs were also stunning. All other detail of life such as cooking and eating were really impressive and enjoyable," said another viewer about the Dulquer movie. "It was the world of my ideal, a fantasy that I dream of, wish I could also live such life," another woman is heard saying in the video.
The advance booking for the movie's second screening date on May 29 has already become full and the organisers have planned to conduct a third show for the Japanese audience at AEON Ichikawa Myoden on June 19.
Celluloid Japan has earlier released more than 10 Indian movies in the country, including Nivin Pauly's realistic cop movie "Action Hero Biju." But "Charlie" was the first Malayalam movie to be screened with Japanese subtitles.
Here is what the Japanese audience have to say about "Charlie:"
Where to book seats for the third screening of "Charlie"?
Book seats HERE
Date: 2016/06/19
Schedule: 14:15 - Ticket issuing 15:00 - Screening start: 17:00
Theater: Aeon Cinema Ichikawa Myoden